Claim:
John Travolta died at the very end of 2022.
Film actor John Travolta is not dead. Readers inquired about the actor's well-being in early January 2023 after a death hoax was shared online.
We found no credible reporting that said anything of Travolta being in poor health, hospitalized, or anything of the sort.
What we did locate, however, was evidence that there had been a number of past death hoaxes about the actor, including a brand new one created on Dec. 30, 2022.
2013 Death Hoax
Some readers who looked for answers about Travolta's rumored death may have first noticed an article on mediamass.net. That article showed the headline, "'John Travolta dead 2023' : Actor killed by internet death hoax."
One thing that some readers may have missed about mediamass.net was that its "About Us" page said it publishes satire. But that wasn't the only thing we noticed about this website.
According to the top of the story on mediamass.net, it claimed to have been "last updated on Jan. 3, 2023." However, that was not when this article was published.
Despite appearances, this article on mediamass.net was published in 2013.
Thanks to the Internet Archive's Wayback Machine, we know that this article was originally published all the way back in 2013. In other words, this was not the new death hoax that we were looking for. The headline and date in the article were changed to give the misleading appearance that the story was new.
The Newer Death Hoax
The roots of the more recent death hoax appeared to stem from an article with the headline, "John Travolta Dead at 68."
This story was published on Dec. 30, 2022, on the "prank" website channel46news.com. The address "channel46news.com" might sound like a local news website, but it's not. The website allows anyone to create a "prank" news article, which can then be shared with friends.
This "prank" was not a legitimate news story.
The "prank" story read as follows:
John Travolta Dead at 68.

The famous actor was found unconscious in his home when a family member found him, the family member called 911 and ambulances arrived rushing him to the hospital and for about 2 hours the actor was still unconscious, until 11:43am, He had stopped breathing and from then on had passed away. No further details has been provided has doctors are still trying to find the cause for his death. Our deepest condolences go out to his family and friends who had lost. Some fans have posted on Twitter saying "Rest in peace John Travolta, Heaven has gained another angel and you are with Olivia in heaven". We send our love for family, friends and fans.
The death hoax was shared right around the anniversary of the death of Travolta's son, Jett, who died on Jan. 2, 2009. According to CBS News, he died at the age of 16 "after having a seizure and hitting his head in a bathtub." Travolta's wife, actor Kelly Preston, also died in 2020 of breast cancer.
Facebook Users Share the Death Hoax
We found several Facebook posts where users appeared to believe the recent "prank" death hoax or another one about Travolta supposedly passing away.
For example, this post was from Jan. 2, 2023.
Some of the commenters under these posts pointed to the story from mediamass.net as proof that Travolta was not dead. Again, while it was true that Travolta was alive, the mediamass.net article was nearly a decade old by that point, and had nothing to do with the newer death hoax.
YouTube Death Hoaxes
Some users also appeared to have seen prior death hoaxes about Travolta, such as YouTube videos with titles like, "30 minutes ago/ RIP John Travolta/ Goodbye John Travolta," "John Travolta has just passed away at his home, He will be buried next to his friend Newton-John," and "10 Minutes Ago / Sad News John Travolta Is Pass Away Expected Soon Family Prepare To Say Goodbye."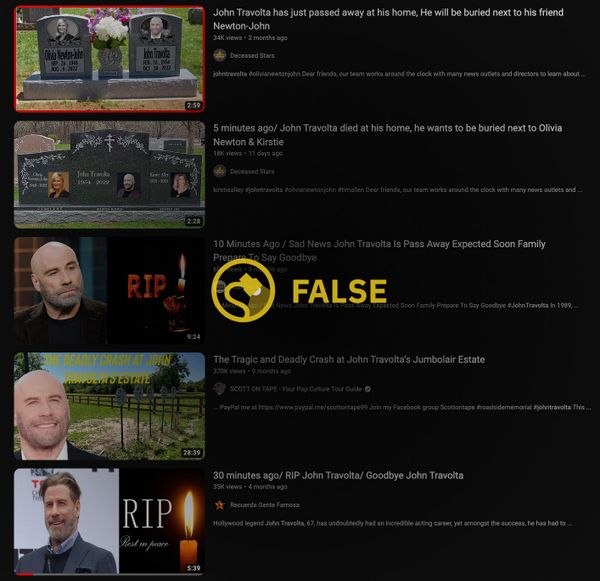 All of these videos were misleading and false.
For further reading, in the final months of 2022, we covered online death hoaxes for other celebrities including Bruce Willis, Simon Cowell, Dick Van Dyke, Clint Eastwood, Sylvester Stallone, Julia Roberts, Alan Jackson, Amy Roloff, and Jim Carrey, as well as former U.S. President Donald Trump.