Claim:
A pastor was among the 18 co-defendants arrested in Fulton County, Georgia, in a case centered on former U.S. President Donald Trump allegedly trying to overturn the 2020 presidential election results in that state.
A deluge of mugshots taken from a Fulton County, Georgia, jail went viral in mid-August 2023 after former U.S President Donald Trump and 18 co-conspirators surrendered to authorities on charges related to trying to overturn the results of the 2020 presidential election in that state.
Some social media posts highlighted one mugshot in particular — that of pro-Trump, Lutheran pastor Stephan Cliffgard Lee — as evidence of Democratic party politicization gone awry. "How the hell do you lock [a] priest up," an account using the wrong religious title posted on X: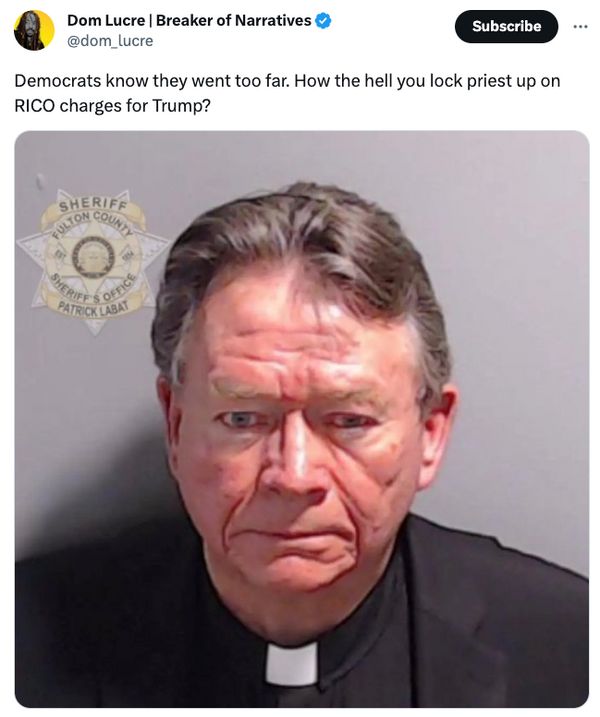 The pastor was never "locked up" — like all but one defendant, he was released the same day he surrendered. He was, however, accused in an Aug. 14, 2023, indictment of participating in efforts to influence election worker Ruby Freeman and to "make her falsely confess to election crimes that she did not commit."
Two charges of "influencing witnesses" stem from actions Lee allegedly took in mid-December 2020. Lee reportedly twice attempted to contact Freeman at her home, speaking with a neighbor on his first attempt and briefly making contact with her on his second, a day later. When he wouldn't leave, Freeman called the police. Reuters obtained police bodycam footage of their interaction with Lee:
Exclusive: A police chaplain named Steve Lee was part of a failed effort to pressure a Georgia election worker to admit to voting fraud that never occurred. Police bodycam footage in Dec. 2020 shows him parked by the worker's house after she called 911 https://t.co/x2DxiRd96b pic.twitter.com/Bx6CtDHxS5

— Reuters (@Reuters) September 9, 2022
According to the indictment, Lee felt as though Freeman did not trust him because he is white. As a result, Lee allegedly recruited a former director of Black outreach for the Trump 2020 campaign, Harrison Floyd, as described in the indictment:
On or between the 15th day of December 2020 and the 4th day of January 2021, Stephan Cliffard Lee solicited Harrison William Prescott Floyd, an individual associated with the organization Black Voices for Trump, to assist with his effort to speak to Ruby Freeman, a Fulton County, Georgia, election worker. [Lee] stated to [Floyd] that Freeman was afraid to talk to [Lee] because he was a white man. 
On Jan. 4, 2021, Floyd and former publicist for Kanye West and R. Kelly, Trevian Kutti, allegedly worked together in an effort to pressure Freeman to make false claims about election fraud. All three — Lee, Floyd, and Kutti — face charges of "solicitation of false statements and writings" and "influencing witnesses" for their role in these efforts.
According to a New York Magazine profile, Lee was a former law enforcement officer who transitioned, after becoming ordained in 1992, to work as a police chaplain: 
After serving  as a sheriff's deputy in California in the 1980s, Lee was ordained as a minister in 1992 and began serving as a police chaplain. In 1999, after moving to Colorado Springs, he was the head chaplain for the Bureau of Alcohol, Tobacco, and Firearms agents who responded to the Columbine school shooting.
Because Lee is a pastor, and because he was one of the 18 people indicted alongside Trump in Georgia's election-tampering case, we rate the claim as "True."