Claim:
Kanye West's former publicist was one of the 19 people indicted in Georgia's 2020 election meddling case against Donald Trump.
On Aug. 14, 2023, a grand jury in Georgia returned a true bill of indictment for former U.S. President Donald Trump and 18 other individuals involved in his alleged effort to convince election officials in Georgia to overturn the results of the 2020 presidential election. After the list of indicted parties was made public, claims began to circulate that a former publicist of Kanye West was among the people indicted: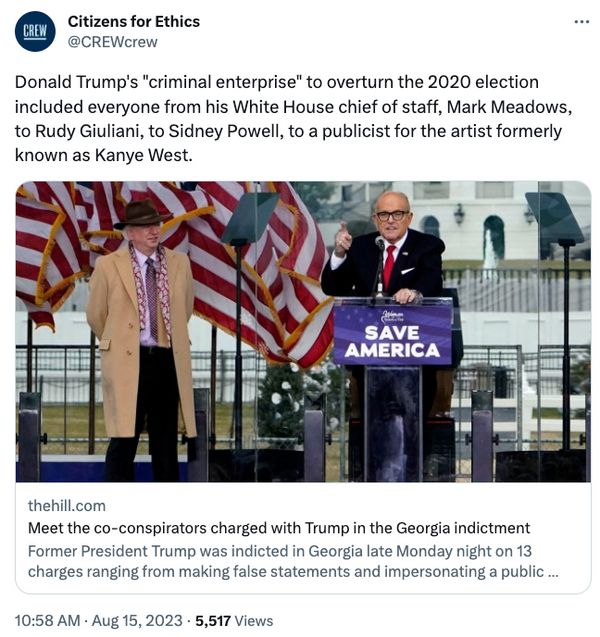 These claims were true. They refer to a woman named Trevian C. Kutti who, in late 2020, claimed to represent law enforcement officials to election worker Ruby Freeman in an effort, prosecutors say, to compel a false statement of election fraud from her. That story, first reported by Reuters in December 2021, describes those actions, which were captured on video:
Weeks after the 2020 election, a Chicago publicist for hip-hop artist Kanye West traveled to the suburban home of Ruby Freeman, a frightened Georgia election worker who was facing death threats after being falsely accused by former President Donald Trump of manipulating votes. The publicist knocked on the door and offered to help.

The visitor, Trevian Kutti, gave her name but didn't say she worked for West, a longtime billionaire friend of Trump. She said she was sent by a "high-profile individual," whom she didn't identify, to give Freeman an urgent message: confess to Trump's voter-fraud allegations, or people would come to her home in 48 hours, and she'd go to jail.
That reporting matches the allegations in Trump's Georgia indictment, as reported by the Associated Press:
Prosecutors allege publicist Trevian C. Kutti claimed to have high level law enforcement connections. They say [Election worker Ruby] Freeman met with Kutti at a police precinct, where she brought [director of Black Voices for Trump Willie Lewis] Floyd [III] into the conversation on a speakerphone. Prosecutors say Kutti presented herself as someone who could help Freeman but then pressured her to falsely confess to election fraud. 
Several media reports and online biographies attest to the fact that Kutti worked for West. An Aug. 28, 2020, Associated Press story about West missing a deadline to submit signatures to get on the presidential ballot in Wyoming described Kutti as "West agent Trevian Kutti." 
In August 2020, the Chicago Sun-Times described her as "a former celebrity publicist for R. Kelly and confidante of Kanye West" who "served on West's executive staff."  
As reported in the 2021 Reuters investigation, a biography of her written for "the Young Black Leadership Council under President Donald Trump" stated that she "was secured as publicist to Kanye West" and "now serves as West's Director of Operations."
At the time of the Reuters investigation, a representative for West did not deny a past relationship between Kutti and West, but said their ties were severed before any of the actions concerning Ruby Freeman. "Trevian Kutti was not associated with Kanye West or any of his enterprises at the times of the facts that are reported in these articles or since these facts occurred," the representative said. 
Because Kutti served as a publicist for Kanye West according to multiple reports, and because she was listed in the Aug. 14, 2023, Georgia indictment, the claim is True.