Actor and author Jennifer Grey's verified Facebook page has been improperly accessed by scammers who are paying Meta money to display multiple ads under her name. Such ads falsely claim beauty industry entrepreneur Kim Gravel endorsed supposed weight-loss products called keto gummies.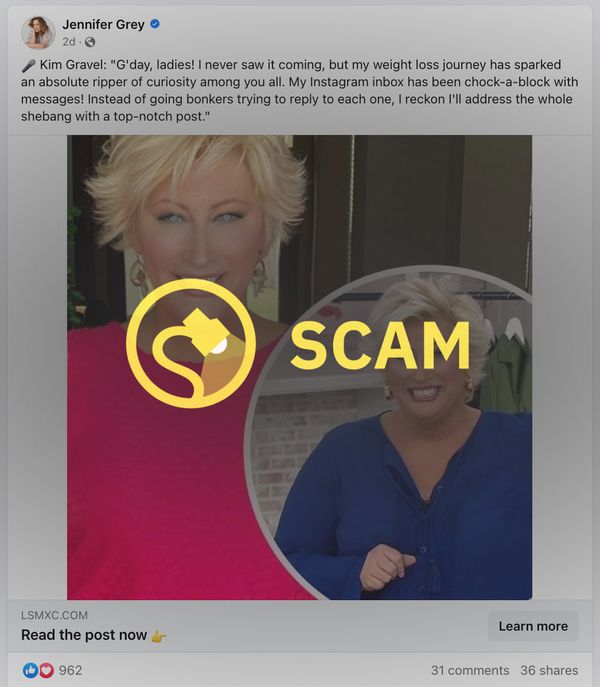 According to our review of the matter, ads like the one displayed above led to a website designed to fool users into believing that they were still on Facebook, when in fact they had navigated to a scam website that was simply designed to resemble the social media network. From there, potential victims are directed to make a purchase of the keto gummy products. Such purchases came with monthly subscription fees that could possibly charge customers thousands of dollars per year.
The "page transparency" section of Grey's page showed that several users had access to manage her page from the U.S., Denmark, the U.K., Vietnam, Indonesia, Nepal, and Venezuela. While there was nothing out of the ordinary about Grey's page having managers from the U.S., it appeared the scam was being operated from some of the other countries.
We reached out to Grey, Gravel, and Facebook to alert them of the scam and to seek comment on the matter. We also asked Facebook why they failed to properly review the ads before they began showing in users' feeds. This story will be updated if we receive responses to our inquiries.
Grey is known for her roles in "Dirty Dancing" and "Ferris Bueller's Day Off." In 2022, she published a memoir titled, "Out of the Corner." Gravel's work extends to appearances on QVC, hosting a podcast, and being a life coach, among other pursuits and accomplishments.
No celebrities have ever endorsed purported weight loss products called keto or apple cider vinegar (ACV) gummies. Scammy pages that offer these kinds of products for purchase often claim that consumers can "melt fat fast" with "no diet or exercise." They also falsely claim that Dr. Mehmet Oz of the former "Dr. Oz" talk show gave his stamp of approval fto keto gummies, calling them the "holy grail" of weight loss, and that the Diabetes, Obesity, and Metabolism medical journal made specific mention of the products.
Such tactics bring to mind two words: snake oil.
For more information regarding keto gummies weight loss scams, we recommend reading through our past articles that covered the subject.