On Feb. 17, 2023, ads circulated on Meta's social media platforms — Facebook, Instagram, and Messenger — that implied Meghan Markle had died. However, not only was that untrue (the Duchess of Sussex was alive), but the links in the clickbait ads led to an article created by scammers.
One of the ads showed a picture of Prince Harry and Meghan with the words, "She Will Be Missed." The ads claimed, "The Real Reason You Don't See Meghan Markle Anymore!"
The ads also said, "A Tragic End Today For Meghan Markle! Prayers!"
It's unclear who was managing these ads. Either way, someone was paying for them to appear.
However, this was all very misleading. The links in the ads led to a story that falsely claimed Meghan had endorsed a skincare line of anti-aging creams, such as "Derma Vaniella Anti-Aging Cream" and "Derma Pgx Cream."
We've seen similar web pages before; ones that falsely claim a celebrity has endorsed a certain product when they haven't, and try to get people to share their credit card information, supposedly in exchange for customer trials. It's unclear if the scammers responsible for the page about Meghan were trying to set up recurring charges for unsuspecting shoppers, or if it was part of an affiliate marketing scheme. Either way, anyone who clicked on the ads and shared personal information should watch their credit card statements for future charges that aren't linked to product shipments.
The article mentioned Harry and Meghan's 2018 wedding as if it had just occurred. In other words, the story was old and repurposed for the clickbait ads that circulated in February 2023.
Despite its somewhat professional appearance, this was not a credible news article.
The story also showed logos for People magazine, The New York Times, "Today," The Oprah Magazine, StyleWatch, and Redbook, even though none of those publications had anything to do with the article. The logos were displayed apparently as some sort of trust signal, an attempt to trick people into thinking the web page was legitimate.
The beginning of the fictional article read as follows:
Meghan Markle's Wedding Bombshell... Royal Family Furious!

Meghan Markle, Prince Harry's wife, known for her role in the hit TV show Suits, found herself in hot water after she disobeyed the orders of Queen Elizabeth and other members of the Royal Family. Apparently, things have been going downhill for a while; but now it's safe to say the boat has sunken according to Royal Family insider.

It all started early last November just before Meghan and Harry announced their engagement to the world, when Meghan signed a deal with Shark Tank's Lori Greiner. The deal states that Meghan's New Cosmetics Line will be picked up and promoted by the American shopping channel QVC. Meghan is very proud of her line. She has been quoted as saying, "This is more than just a beauty line. This is what every woman has been dreaming of for most of her adult life."

...

We were able to do a little snooping and found out what this mystery line was all about. It is a cutting-edge Wrinkle Reducer and Anti-Aging Serum. Her product line is becoming so popular, even top beauty experts such as Bethany Mota and Michelle Phan are singing her product's praises.
Also, the fictional article falsely claimed Barbara Walters, Vanna White, Sherri Shepherd, Rosie O'Donnell, and Meredith Vieira endorsed the skincare products. In reality, they had no involvement with the products.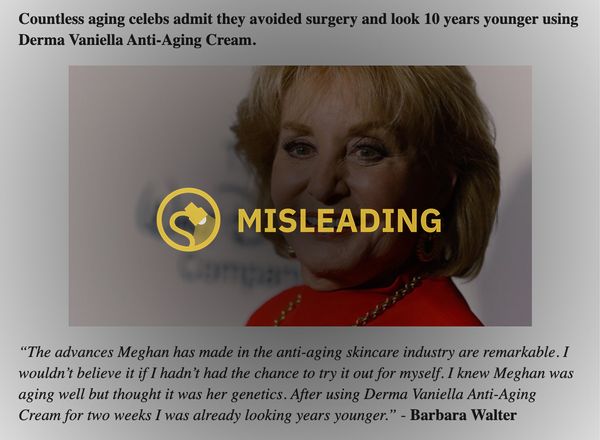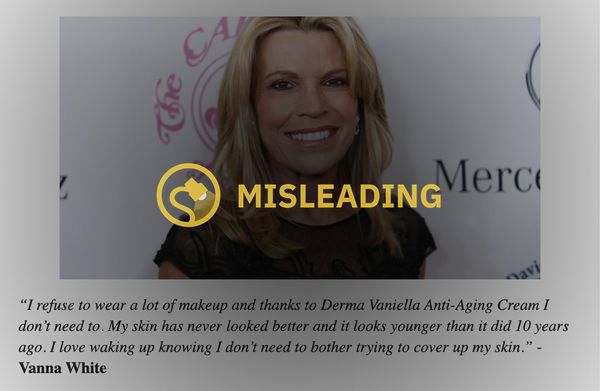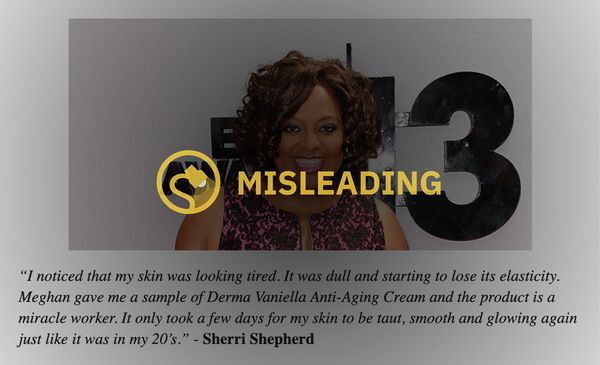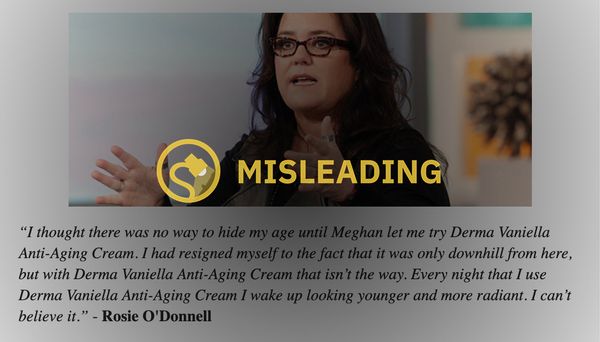 The story, which again had been repurposed in February 2023, named both Walters and Queen Elizabeth II, even though they were dead.
This story will be updated if more developments come to light.