Claim:
White actor Tom Hanks will be playing Black civil rights activist Martin Luther King Jr. in a movie directed by Steven Spielberg.
In June 2023, a number of online posts claimed that white actor Tom Hanks had been selected to play Martin Luther King Jr. in a Netflix movie directed by Steven Spielberg about the Black civil rights activist's life. 
The posts shared images claiming to show Hanks embodying King in blackface.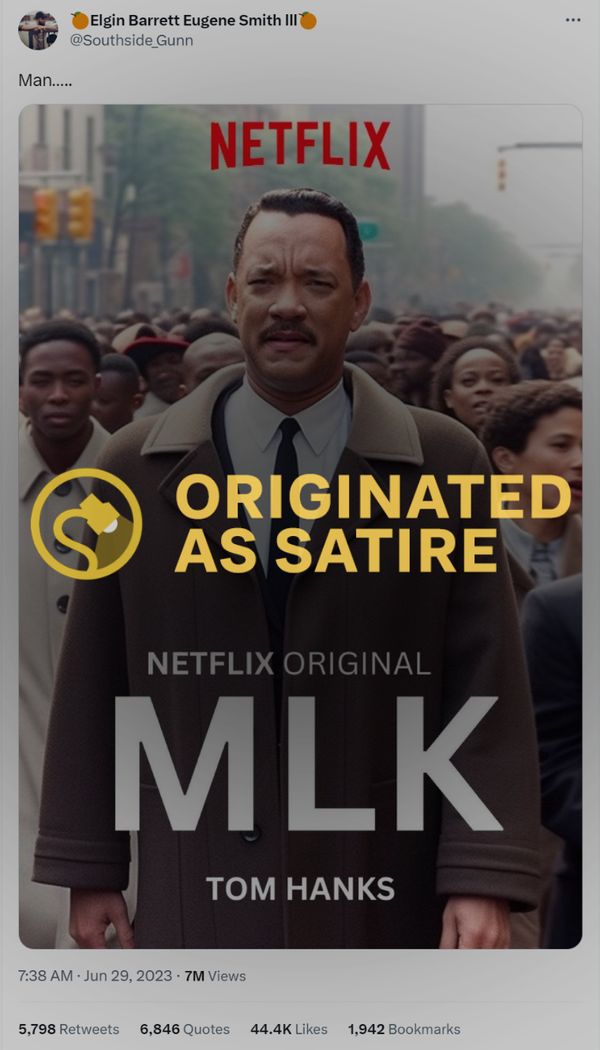 (@Southside_Gunn/Twitter)
This claim is not true, and originated as satire. We found an April 1, 2023, article titled "Tom Hanks to play Martin Luther King Jr. in Upcoming Spielberg Directed Biopic" on the website Wolfshead Online that clearly stated the story was satirical in nature.
The article described the supposed backlash to the supposed casting: 
But not everyone is happy about this casting choice. Civil rights activists have taken to social media to express their outrage that a white actor has been chosen to play one of the most influential black figures in American history.

"Are you kidding me?" tweeted one user. "Tom Hanks playing Martin Luther King Jr.? What's next, Scarlett Johansson as Nelson Mandela?"

Others have pointed out that Hanks is not known for his ability to portray complex characters, and that his trademark "aw shucks" persona may not be appropriate for such a weighty role.

"This is ridiculous," wrote one critic. "Tom Hanks playing MLK is like Will Ferrell playing Gandhi. It's just not right."

Despite the backlash, Spielberg and Hanks remain confident that they can pull off this challenging project, and have promised to do justice to the legacy of Dr. Martin Luther King Jr.
A note at the bottom of the article, however, makes it clear that the story is satirical: "Disclaimer: This is a satirical article and not meant to be taken seriously." Furthermore, the story was published on April Fools' Day. 
The images in the article were the same as those that have spread online and appear to have been AI-generated. We were unable to find a reliable source, including verified news media outlets and posts from Hanks, Spielberg, Netflix, or any relevant parties with similar images and claims that such a movie is in the works. If this news had been real, there would have been controversy, and likely headline news about a beloved actor accepting such a role.
It also would have prompted a public discussion about blackface, a practice stemming from minstrel shows in the 19th century, in which white performers darkened their faces and acted out degrading and dehumanizing portrayals of Black people. Despite its racist history, blackface makeup still makes appearances in Halloween costumes and movie performances.