Claim:
A viral video shows a school bus driver suffering a heart attack caused by a COVID-19 vaccine.
Eleven years after heroic middle school students in Milton, Washington, took control of a school bus, brought it safely to a stop, and attempted to perform CPR on their driver after he suffered a heart attack, surveillance video of the incident was repurposed on social media to promote an anti-vaccine agenda. 
The video, originally recorded on April 9, 2012, resurfaced online on March 22, 2023, in a tweet captioned, "School bus driver suffers heart attack and 13-year-old gets behind the wheel and saves all children's lives." The tweet gave no indication of when the incident occurred. 
Besides garnering more than 30 million views and 350,000 likes within 24 hours, the tweet attracted replies and retweets from accounts that either implied or stated outright that the bus driver's heart attack was caused by a COVID-19 vaccine. That was impossible. The vaccine was not developed until late 2020, more than eight years after the incident took place.
Fortunately, the misleading tweets appeared to be getting far less engagement than the original post. Here are a few examples: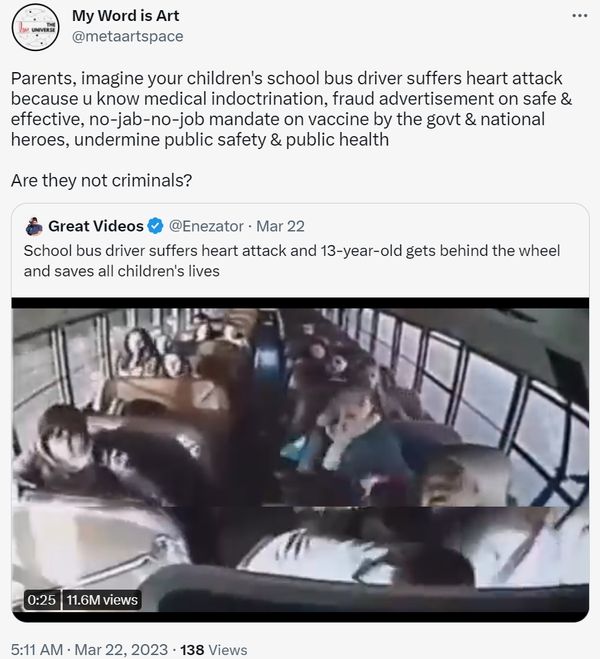 Despite repeated claims from COVID-vaccine opponents that vaccinated people are at greater risk of sudden heart attacks than non-vaccinated people, experts say there is no scientific data to support the notion.