Claim:
A picture that went viral in June 2023 authentically showed an extremely steep hill in San Francisco.
Context
The image is a digitally created composite, combining a photograph of a real California Street in San Francisco with an aerial drone shot.
A picture shared by various social media accounts in mid-June 2023 allegedly showed an extremely steep hill in San Francisco. "Dem hills in SF are steep," someone tweeted with the image.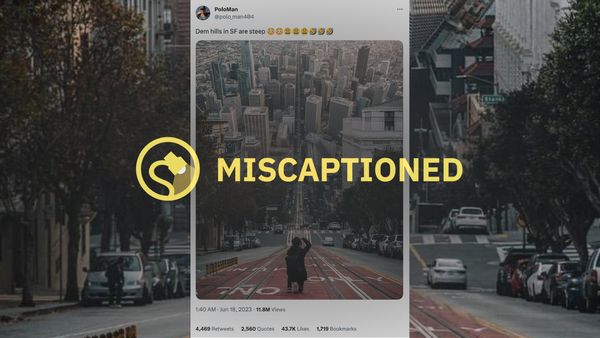 In reality, the image was a composite photograph — a combination of two or more pictures — and did not authentically show San Francisco's landscape. Rather, according to the image's creator, Tristan Zhou, a photographer and filmmaker based in Seattle, the image combined an authentic photograph of San Francisco's California Street with an aerial, overhead drone shot of the same thoroughfare.
Zhou originally originally posted the image to Instagram in 2021, titling it "San Franception." Since then, numerous social media accounts have reposted the image without crediting Zhou or including a disclaimer that it did not authentically show a city street.
What's more, the photograph is available for purchase as an NFT (i.e., a non-fungible token) on foundation.app.
Zhou reposted the image to Instagram in June 2023 to "remind everyone of the importance of respecting, safeguarding, and crediting artistic work," as he wrote in a caption, claiming that it was one of his most stolen artworks. "It's disheartening to witness this distinct creation being shared without my consent, but I refuse to let it diminish the awe-inspiring nature behind it," the caption continued.
The post contained two similar, composite photographs to help demonstrate how they're created.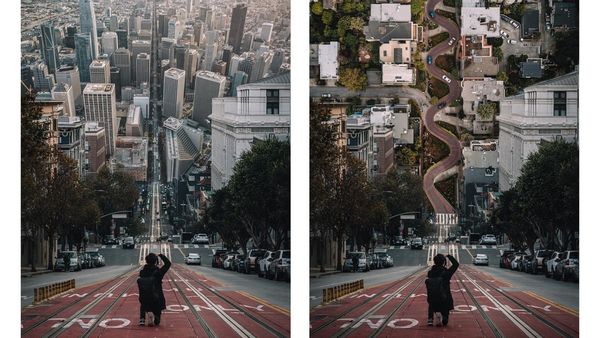 (Instagram user @trystane)