Claim:
A viral photo showing Pope Francis in a white puffer jacket is authentic.
Context
The image was computer-generated using an artificial intelligence (AI) app.
On March 25, 2023, a photo that appeared to show 86-year-old Pope Francis out and about in a fashionable white puffer jacket went viral on social media.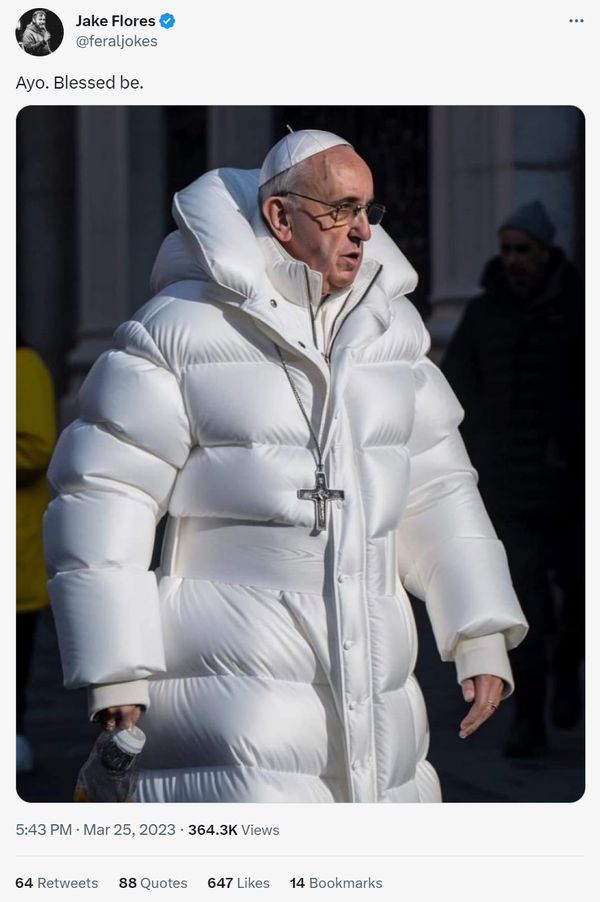 As many who saw it suspected, it was actually a deepfake image created via artificial intelligence (AI). It originally appeared on Reddit in the r/midjourney subreddit. Midjourney is an app that generates images from natural-language prompts (much like DALL-E, another well-known AI image-generating app). Many Midjourney experimenters share their creations in the subreddit. The image above was part of a gallery comprising four different views of the pope in a puffy coat.
March 2023 was something of a breakout month for AI-generated deepfakes. Mid-month, former U.S. President Donald Trump's announcement that he expected to be arrested soon in connection with the Stormy Daniels hush-money case prompted a flood of deepfake images on social media positing imaginative scenarios surrounding such an arrest.