Claim:
In October 2023, former U.S. women's national team soccer player Megan Rapinoe was kicked out of one of Guy Fieri's restaurants as patrons loudly booed her.
In late October 2023, SpaceXMania published an article titled, "Megan Rapinoe Loudly Booed Off at Guy Fieri's Restaurant, Gets Kicked Out Immediately," in reference to an alleged incident involving the former U.S. women's national team soccer player and the famous restaurateur. It was unclear where, among Fieri's many restaurants across the country, the purported incident occurred.
The article was popular on Facebook with more than 400 comments and 6,000 reactions, as of this writing. Many users wrote comments that indicated they believed the story to be true and voiced support for the purported decision by the restaurant to kick out Rapinoe. "Good! Finally, people standing up for America!" someone wrote.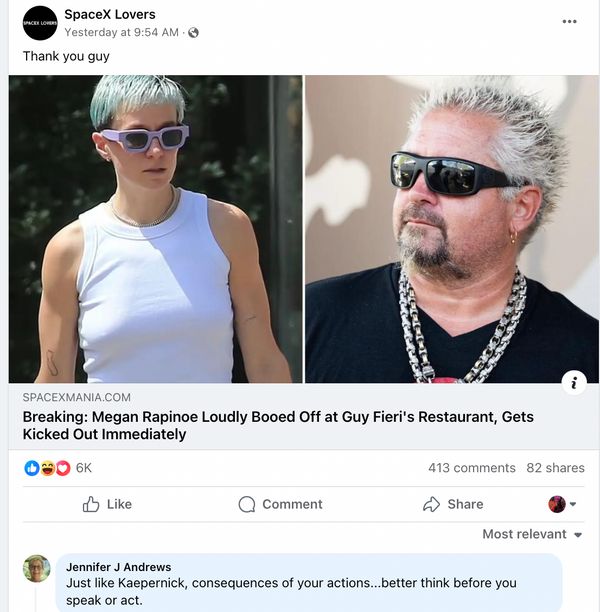 (Screenshot via Facebook)
The article stated:
As Rapinoe made her entrance into the restaurant, a palpable shift in atmosphere occurred. Instead of the anticipated murmurs or discreet glances often reserved for celebrities, she was met with overt disapproval. The loud boos echoed in the restaurant, drowning out the sizzle of grills and clinks of dishes.

A source inside the restaurant shared, 'There were mixed reactions. While some patrons tried to drown out the boos with applause, it was clear that the majority were displeased. Conversations halted. The entire scene was surreal.'

Restaurant staff, trained to handle disruptions but perhaps not of this nature, found themselves in a challenging position. They had to ensure the safety and comfort of all their guests, including Rapinoe. Faced with a rapidly escalating situation, the management made the difficult decision to ask Rapinoe to depart.
This was a fictional story. The article was classified as "satire" on SpaceXMedia's website, which includes the following disclaimer:
Please note that the article under the category "SATIRE" are satirical in nature and are not meant to be taken seriously. These articles are meant to be humorous and are often entirely made up. We make no claim that the information presented in these articles is true or accurate.
Rapinoe has generated controversy in the past for supporting transgender athletes' inclusion in professional sports, the Black Lives Matter movement, and equal pay for female athletes.
Fieri and Rapinoe were leading targets of stories by satirical sites like SpaceXMania in 2023. For instance, in July, we alerted readers to a satirical article about Fieri supposedly cancelling a reservation by country musician Garth Brooks at one of the restauranteurs' establishments. We also fact-checked satirical pieces claiming Fieri banned actor Whoopi Goldberg from his restaurants and Rapinoe was asked by celebrity chef Gordon Ramsay to leave one of his locations.
For background, here is why we sometimes write about satire/humor.