Claim:
Celebrity chef Guy Fieri banned "The View" co-host Whoopi Goldberg from his restaurants and added, "She's toxic."
In October 2023, multiple Facebook pages published posts with pictures of celebrity chef Guy Fieri and "The View" host Whoopi Goldberg. Above the photos, these posts included the apparent headline, "'She's Toxic': Guy Fieri Bans Whoopi Goldberg From His Restaurants." The posts then directed users to click the link in the first comment down below.
For example, one of the Facebook posts looked like this: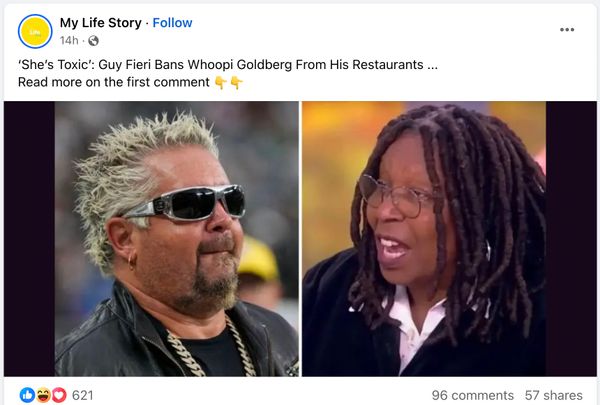 In the first comment of these posts was a link to an article. That story with the same headline about Fieri supposedly banning Goldberg was posted on several websites, including wonderfuldreama.life, newzdiscover.com and faithhopel.info, for example.
The article began as follows:
The culinary world is in a tailspin, as the larger-than-life Food Network star, Guy Fieri, has taken a bold step that has left the world as shocked as a raw steak on a hot grill. His target? None other than outspoken talk show host and actress, Whoopi Goldberg. His charge? According to the celebrity chef, she's "toxic" – a term usually reserved for questionable leftovers or overripe cheeses.

The saga began on a seemingly normal Tuesday. Fieri, host of "Diners, Drive-Ins, and Dives," took to Twitter with an announcement that quickly fired up social media. In a tweet as spicy as his signature Atomic Buffalo Wings, Fieri declared, "In the interests of keeping my diners, drive-ins, and dives chill, Whoopi Goldberg is no longer welcome. #She'sToxic."

Naturally, the tweet exploded faster than popcorn in a hot pan. The food industry, known for its fair share of feuds and fiascos, was left picking its collective jaw off the floor. After all, who bans a celebrity from their restaurant, let alone all their restaurants?
However, this story was not true. The article was originally published in July by SpaceXMania.com, a website that describes its output as being satirical in nature, both on its "About Us" page and as a label above articles. The websites that reposted the story in October did not include any labels about satire.
Multiple commenters under the Facebook posts appeared to believe the story was true.
"Get rid of her!," one user said, referring to Goldberg.
"I don't blame him one bit! I don't want her anywhere near me!," a different person commented.
"She is toxic – good idea to ban her from your restaurants," another user remarked.
We found at least hundreds of public-facing comments just like these. Also, with so many people on Facebook who have their profiles and posts set to only show to friends, there's no telling how many more users out there shared the made-up rumor.
For further reading, we previously reported on a similar rumor that claimed Fieri had canceled country star Garth Brooks' reservation at one of his restaurants.
For background, here is why we sometimes write about satire/humor.