Claim:
Photographs shared online in early June 2023 authentically showed the Las Vegas sphere displaying a Windows error message.
In early July 2023, social media users shared a picture allegedly depicting the Las Vegas Sphere, a venue built to host immersive shows, concerts, and other events, displaying a Windows error message, reaching millions of views. One Twitter user captioned it "Bill Gates ruined the Las Vegas sphere."
Bill Gates ruined the Las Vegas sphere 🤣 pic.twitter.com/RVK13Gpm6l

— DogeDesigner (@cb_doge) July 8, 2023
Another user on Reddit wrote "Oh great, Windows crashed and the Vegas globe now just shows blue screen of death". The same image was reposted by various social media profiles and websites, including Russian and Czech-speaking ones, and the earliest posts we have found were dated July 7. 
The sphere, located at The Venetian Resort in Las Vegas, is a project first announced by the Madison Square Garden Company in 2018, and designed by Populous, a global design firm. The venue will host various events, such as immersive shows and concerts. On Feb. 12, 2023, the organizers announced their first collaboration with the rock band U2, which will perform in the Sphere in September and October 2023. 
When we compared the in-question image with other footage of the sphere, we noticed that the halo visible in the image is unnaturally large and exaggerated, proving that the picture was digitally edited.
To confirm our findings we used FotoForensics, a platform that specializes in digital image forensics, helping to determine authenticity of the uploaded images and detect any potential alterations or manipulations.
This website performs an Error Level Analysis (ELA) technique, intentionally re-saving an image at a known error rate (such as 95%), then subtracting the re-saved image from the original image to reveal the differences. These differences, or "error levels," can help identify areas of the image that were added or modified. If an image is unaltered, the entire image should have a similar error level. However, if parts of the image were added or altered, those areas will likely have a different error level, indicating potential manipulation. 
The results of the FotoForensics are visible below, indicating the places where the image was edited (the overlay of the sphere and the text inside).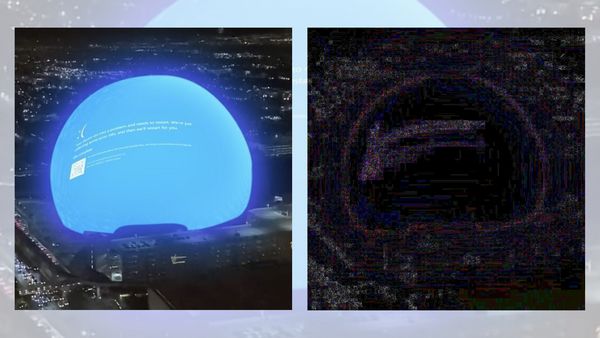 (FotoForensics)
Moreover, no reputable news media reported on this alleged event of Las Vegas Sphere shutting down and showing a Windows error message, therefore we rate this image as Fake.
It's not the first time someone edited the Las Vegas sphere with a Windows error message. We found other examples of social media users editing it and adding Windows messages.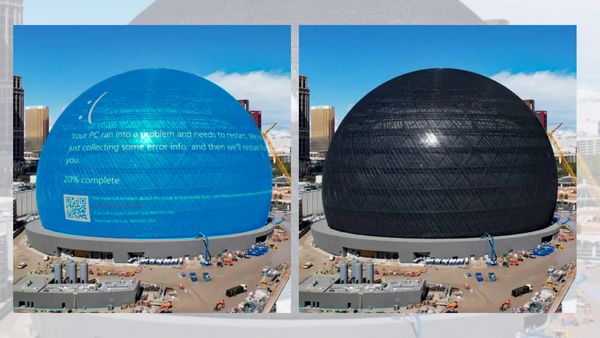 (Twitter users @KetuAlbrecht and @SerfsLs)
In the above case, the editing seemed more evident, as many imperfections could be seen in the image.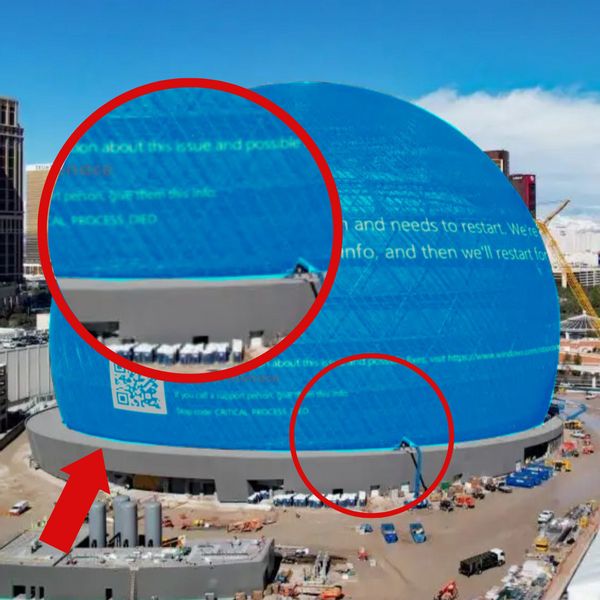 (Twitter user @KetuAlbrecht)
The FotoForensics tool confirmed our findings, clearly showing where exactly the image was digitally altered.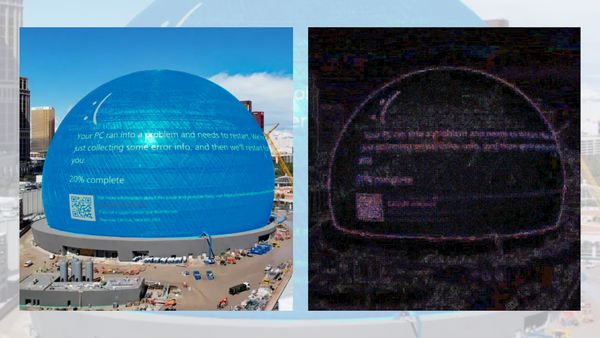 (FotoForensics)
We reached out to the Sphere Entertainment for comment and the company confirmed the picture was digitally edited.