Claim:
Laphonza Butler, selected to replace Dianne Feinstein in the U.S. Senate for the remainder of her term after she died in September 2023, has consulted for or been employed by Uber and Airbnb.
Following the death of Democratic U.S. Sen. Dianne Feinstein of California on Sept. 29, 2023, California Gov. Gavin Newsom announced he would replace her with long-time political operative Laphonza Butler. At the time of his announcement, Butler was president of Emily's List, a political action committee (PAC) aimed at electing pro-choice female, Democratic candidates to office.
Active in Democratic politics for years, she was a senior adviser to Kamala Harris' 2020 presidential primary campaign and a partner at the firm SCRB Strategies, a well-known political and business consulting group that handled Harris' campaign, Newsom's fight against recall efforts, and several other high-profile Democratic causes. Prior to her consulting work, she was the president of the largest labor union in California — a healthcare and homecare workers union — Service Employees International Union (SEIU) Local 2015. 
With this background, claims went viral after Newsom's announcement that Butler had advised Uber during its fight against labor protections for drivers and had worked on political issues for the vacation rental company Airbnb: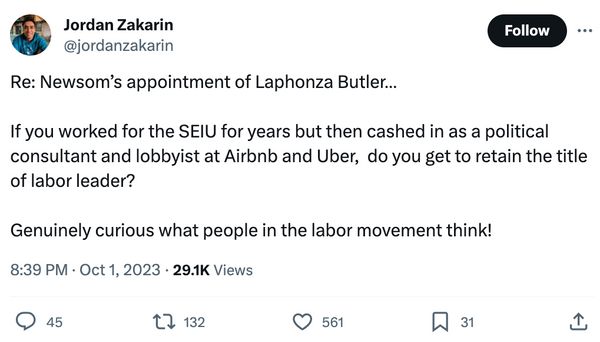 (Twitter)
Both assertions are factual. As journalist Lee Fang reported, Uber paid SCRB at least $183,000 in the time period in which Butler worked for the firm, which is now named Bearclaw Strategies. Back in 2019, Bloomberg labor reporter Josh Eidelson reported on Butler's work for Uber, specifically writing:
One asset for Uber is Laphonza Butler. She was president of one of the SEIU's largest local unions until last year and is now a partner at SCRB Strategies, a California-based business and political consulting firm. 

There, Butler has advised and represented Uber in its dealings with organized labor on employment issues and also serves as an adviser to the presidential campaign of Kamala Harris, the Democratic senator from California. 

An Uber spokesman said Butler brings a valuable perspective to the company's efforts to improve work for drivers, and a spokesman for Harris declined to comment. Butler and her firm didn't respond to requests for comment. 
It is also public knowledge that Butler left SCRB strategies to work in the policy arm of Airbnb in September of 2020, taking the title "North American Policy Director." As reported by Politico in 2020: 
Laphonza Butler, a partner at a leading California political consulting firm that has helped guide the campaigns of Kamala Harris, Gavin Newsom and Jerry Brown, is leaving to join the vacation rental company Airbnb, she confirmed to POLITICO.
In that role, she advocated policy positions favorable to Airbnb to the U.S. Congress. She was the author, for example, of a letter to congressional leaders advocating Airbnb's "strong support for the necessary federal funding to implement sustainable, long-term policy solutions for broadband deployment throughout our country in order to provide more opportunity in every city, state and territory of the United States.
Because both Uber and Airbnb have publicly confirmed that Butler worked with them, and in the case of the latter was directly employed by the company, we rate the claim as "True."