Claim:
Christian author Joyce Meyer endorsed CBD and keto gummies for weight loss.
Since at least 2022, scammers have improperly used the image and likeness of Christian author Joyce Meyer to promote fake reviews for keto weight loss gummies. Meyer, the president of Joyce Meyer Ministries, has never had anything to do with keto gummies, CBD gummies, or any other kinds of gummies that promote weight loss.
On a similar note, in 2021, the Joyce Meyer Ministries Facebook page warned followers to not fall victim to another scam that falsely claimed she had endorsed CBD oil.
This scam involving Meyer and keto weight loss gummies reviews was similar to other scams we had researched and written about before, including ones that improperly used the image and likeness of entertainment icon Oprah Winfrey, author and Food Network TV host Ree Drummond ("The Pioneer Woman"), and the cast of "Shark Tank."
The scam with Meyer's name and face began with a misleading clickbait ad that claimed, "The Tragedy of Joyce Meyer Is Just Pure Heartbreak. Joyce Meyer Breaks the Silence Today."

However, there was no "tragedy" or breaking of any "silence." Scammers simply included this false claim to entice users to click.
The link in the ad redirected through adsoniris.com to dietinsiderguide.com. On dietinsiderguide.com, a scam website, we found an article that was designed by scammers to fool readers into believing they were looking at a news story published by Fox News. However, again, the article was hosted on dietinsiderguide.com, not foxnews.com.
The headline of the article read, "Weight Loss Industry in Outrage Over Joyce Meyer's Latest Business Venture that's Helping Millions of Women Melt Body Fat and Get Ripped in Just Weeks!"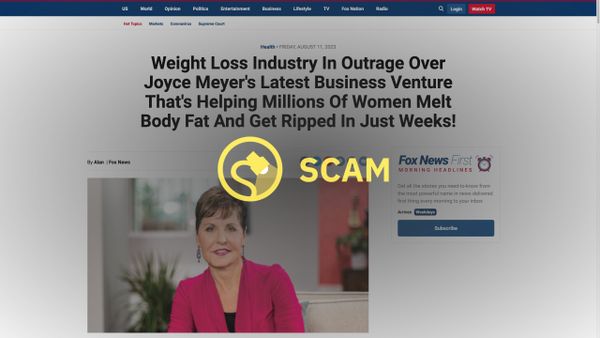 The scammy articlfalsely claimed that Meyer had endorsed several different keto gummies products. Product names that we saw mentioned with Meyer's name on Aug. 11 included Good Keto BHB Gummies, Keto Fusion ACV Gummies, and Keto Bites ACV Gummies. Scammers who promote keto weight loss gummies often rotate brand new product names every day or every few days, so these three products will likely be swapped out for others in the days to come. (Note: "ACV" stands for apple cider vinegar.)
Upon clicking on one of the many links in the scam article, we were led to a page where the products could be ordered. That final page asked for personal information and a credit-card number. It also claimed that keto weight loss gummies can help people "melt fat fast" with "no diet or exercise."
With these so-called "miracle" products, we offer this advice about online offers: If something seems too good to be true, it probably is.
If any readers fell victim to this scam, we recommend alerting your credit card company to see if a refund is a possibility and to ask if future charges from the seller can be blocked. These keto weight loss gummies scams and their fake reviews rope customers into pricey monthly subscriptions that, if not stopped, can cost thousands of dollars per year.
Finally, know this: According to what readers have repeatedly told Snopes, packages of keto weight loss gummies often feature a return-address label for P.O. boxes in Smyrna, Tennessee, Las Vegas, Nevada, and Tampa, Florida. However, it's unclear if the P.O. box numbers even exist, as we've received reports from readers that the one in Smyrna might not be real.
Note: Another scam headline used by CBD gummies scammers in the past claimed, "Joyce Meyer's Dementia Reversing Solution Sparks Huge Lawsuit Pressure from Big Pharma, She Finally Fights Back On Air." This headline can also be filed under the "too good to be true" advice.