Claim:
Jeremy Allen White and Gene Wilder are blood relatives.
Here at Snopes, celebrity doppelganger rumors are very common. In 2023, a rumor targeting actors from different eras had the internet abuzz: TikTok videos and Reddit posts compared the remarkably similar appearances of actors Jeremy Allen White and Gene Wilder, who died in 2016. The posts alleged a familial connection between the two.
Online ads spread the rumor with photos of the two actors and clickbait headlines such as, "[Photos] These Grandchildren Look Exactly Like Their Celebrity Grandparents," or the claim that Wilder was White's father.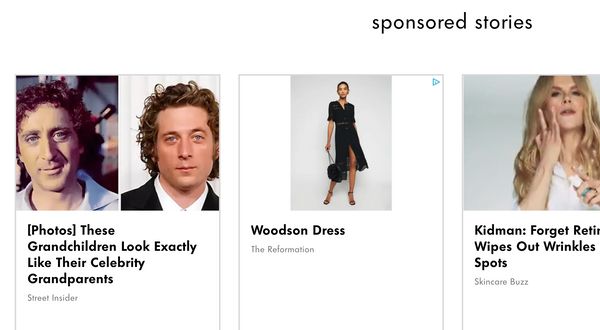 (Screenshot via People.com)
There was no publicly available evidence to confirm, a consanguineous connection between Wilder and White. We reached out to Wilder's nephew, filmmaker Jordan Walker-Pearlman, through his production company (Harlem, Hollywood), as well as representatives for White via his talent agency, to pose the question.
Walker-Pearlman, through a spokesperson for his production company confirmed that Wilder and White were not related. As such we have updated our rating to False.
The spokesperson told us, "Jordan can confirm with you that as much as he admires the talent of Jeremy Allen White and believes Gene would have as well, and clearly sees the family resemblances, they are in fact not related."
Wilder— whose real name was Jerome Silberman — was known for his portrayal of Willy Wonka in the 1971 movie, "Willy Wonka and the Chocolate Factory," as well as roles in "Young Frankenstein" and "Blazing Saddles." While he adopted a stepdaughter during his second marriage in 1967, he died without any biological children, according to The Guardian and his IMDb profile. He was reportedly estranged from his stepdaughter later in life, according to The Guardian.
In a 2002 interview with Larry King, he discussed her: "I had a daughter and lost her a long while ago. That's too sad a story to go into." He added that he "lost" her when she was 22 or 23 years old.
However, Wilder has at least one nephew, Walker-Pearlman. When Wilder died in 2016, Walker-Pearlman announced the news in a statement for the public. In an interview with NPR around that time, Walker-Pearlman mentioned other relatives, a cousin and aunt of his, who were also in the company of Wilder when he died.
It is unknown, at present, whether Pearlman has biological children of his own, though there's no indication of a link between him and White.
White, a Brooklyn native, is known for his roles on television shows "Shameless" and "The Bear." He was born in 1991, and his mother, Eloise Zeigler, is of Ukrainian descent, according to his IMDb page.
Meanwhile, according to the New York Times and IMDb, Wilder's father was a Jewish immigrant from Russia, and his mother was reportedly of Russian descent.
In other words, not only is there no evidence of a familial connection between the two actors, Wilder and White seemingly do not share the same ancestry.
White is aware of the comparisons, though. In an August 2022 video interview with InStyle magazine, he mentioned the rumor — saying he agrees, "I look a lot like Gene Wilder" — though he did not outright deny or confirm its legitimacy. He said:
Yeah I've been made aware of some of the stuff out there. There's one in particular. Everyone's decided I look a lot like Gene Wilder, which I agree. But I guess someone called me 'Ketamine Gene Wilder.' Or called Carmy 'Ketamine Gene Wilder,' which I thought was weird and funny.
https://www.youtube.com/watch?v=UxxG_AoRTlo&t=150s
There is no proof of a familial connection between the two actors — regardless of whether that hypothetical link was through marriage or blood. Wilder also had no biological children, and White, when publicly referencing the rumor, did not confirm or deny its legitimacy. Given that Wilder's nephew has also refuted the rumor, we rate this as "False."