Claim:
A video that went viral in late August 2023 showed people surfing in California during Hurricane Hilary.
In August 2023, tropical Hurricane Hilary caused flooding in Mexico, and brought drenching rain to Southern California. On Aug. 20, 2023, a video went viral on social media, allegedly showing surfers in Newport Beach, California, during Hurricane Hilary. "I want to be this stress-free in life," one social media user commented. "Dude is surfing while California is flooding and earthquakes are going on," the tweet continued.
Although the footage is authentic, it was not captured in August 2023. The video was captured at The Wedge, a surf spot in Southern California, in May 2023 (three months before the hurricane reached California). Therefore we have rated this claim as "Miscaptioned."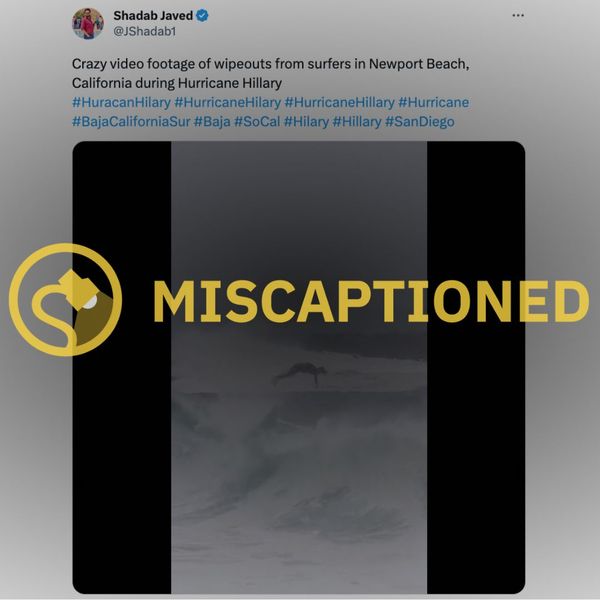 (X user @JShadab1)
The video was originally published on May 19, 2023, by @surfline Instagram account, a company that specializes in surf forecasting and surf reports. Its caption read:
How big was Wedge today? (Ask @sage_burke!) How big will it be tomorrow and into the weekend at your spot? Check your local forecast. 🎥: @jamesferrell_
James Ferrel, an author tagged in the video's description, is a 22-year-old photographer and videographer based out of Southern California. The surfer visible and tagged in the video was Julian Sage Burke, who also reposted the footage on his Instagram profile in May 2023.
If you don't want to fall for deceptive photographs and videos, check out our collection of fake hurricane pics. And when you find a suspicious post on social media, feel free to send it to us so we can fact check it.