Claim:
"The View" co-host Whoopi Goldberg was panicking after one of the show's former co-hosts, Rosie O'Donnell, said something negative about her in the summer of 2023.
On Aug. 15, 2023, the purported celebrity news YouTube channel known as Spill Today published a new video that claimed "The View" co-host Whoopi Goldberg had caught wind of fresh negative remarks made by one of the show's former co-hosts, Rosie O'Donnell. The video's title read, "Whoopi Goldberg PANICS as Rosie O'Donnell DESTROYS Her PUBLICLY."
By the following day, the video had received more than 200,000 views.
According to the video's thumbnail image, Goldberg had said to O'Donnell, "I'll sue you!," to which O'Donnell had responded, "You're a racist hypocrite!"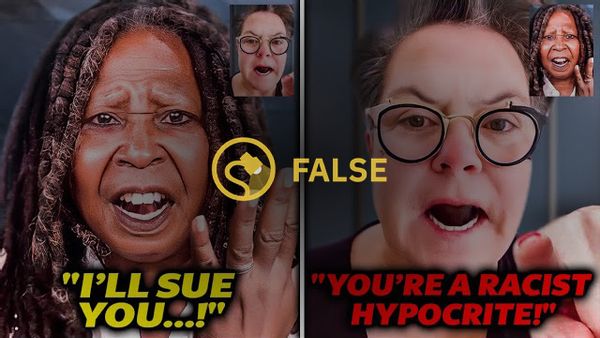 In this article, we'll lay out the truth behind this misleading video, show evidence of O'Donnell's true and generous thoughts about Goldberg, and look back at a relevant clip from "The View" that aired in 2017.
The Misleading Video
The video from the Spill Today YouTube channel began with several clips from an unspecified, years-old episode of "The View," likely from 2014 or 2015, then shifted to narration from a fake voice that had been generated by AI:
WHOOPI GOLDBERG: Listen, you are a white lady telling me what is racist to you, which is fine...

ROSIE O'DONNELL: I am a gay American who's been called a (censored) ... and what homophobia hatred looks like.

...

GOLDBERG: "You know, is it raci–? Do you think it's racism?" I don't know.

O'DONNELL: I have a Black kid I raised, Whoopi. I have a kid at my house.

GOLDBERG: That is not the same thing.

O'DONNELL: You don't have to be Black to know what racism is.

GOLDBERG: Yes, you do.

O'DONNELL: No, you don't.

GOLDBERG: Yes, you do, baby.

NARRATOR: Gather around folks, because Rosie O'Donnell just spilled some major tea during her jaw-dropping appearance on Brooke Shields' podcast, "Now What."
The clips authentically showed that, in the past, O'Donnell and Goldberg had at least once engaged in a fiery debate on the subject of race and gender.
However, as we've indicated with a "False" rating at the top of this story, the YouTube video's title and thumbnail image were nothing more than untrue clickbait.
The video had claimed O'Donnell "just spilled some major tea" on the podcast, "Now What? with Brooke Shields." O'Donnell appeared on an episode of Shields' podcast back in April 2023 — it did not "just" happen. Further, during the episode, O'Donnell appeared to say nothing negative at all about Goldberg.
Fake Celebrity News YouTube Videos
The video in question was created for one of many similar YouTube channels that publish misleading news about celebrities with the use of AI narration. Such channels sometimes show signs of being managed from India, Indonesia, or United Arab Emirates, among other possible countries in Asia.
The creators of these kinds of misleading videos attempt to highlight famous people who might draw admiration or ire from politically minded users. According to the comments that can be found under these videos, the ideal target for these video creators would be users who place blind trust in headlines and quickly submit comments after doing no research. The act of conducting a few seconds of research would help a user ensure that they weren't being misled.
O'Donnell's True Thoughts About Goldberg
In a June 2019 episode of Bravo's "Watch What Happens Live with Andy Cohen," O'Donnell had nothing but generous things to say about Goldberg as she recounted a moment when she had seen her at a recent event.
"I'm always gonna respect her," O'Donnell said of Goldberg. "I'm always gonna look up to her. She was somebody who was inspirational in my career, and you like to keep those people in a place of reverence if you can, and that's what I'm hoping to do."
Goldberg Addressed 'Fake News' in 2017
In 2017, Goldberg addressed a false story that had circulated with her name and that she said had endangered hers and her family's life. At the time, she talked about the kind of users who might not properly ensure that the content they're looking at online is true.
"Now, normally, people would have to actually look things up to see what someone said," Goldberg said. "And when you look on our website, you can see everything that we say. Our shows were posted. But, unfortunately, people don't do that."
.@WhoopiGoldberg responds to fake news story about her calling it "horrible lies": "It endangered my family's life, it endangered my life." pic.twitter.com/ZAGkppxXou

— The View (@TheView) March 13, 2017
We previously reported about several other rumors regarding Goldberg, all of which also came from dubious celebrity news YouTube channels that had misleading thumbnail images.