Claim:
"The View" co-host Whoopi Goldberg panicked after being shamed by her fellow co-hosts, who had said to her, "[They] canceled us because of you!"
On Aug. 14, 2023, the Just In celebrity news YouTube channel (@JustInCeleb) published a video that claimed, "Whoopi Goldberg PANICS As Co-Hosts SHAME Her For Ending 'The View.'"
In this story, we'll reveal the truth about the misleading nature of this video and a second, similar clip, each of which had hundreds of thousands of views. We'll also lay out where these videos appeared to be coming from.
First Video
The video from Just In began with a lineup of several clips showing "The View" co-host Whoopi Goldberg and other regulars on the ABC morning talk show, followed by narration to introduce the story:
"DOUG IN EXILE": "The View" is off the air, finally.

WHOOPI GOLDBERG: Put a finger in my face and yell, "I've done more for victims than you ever will." Then I said to her some few choice words I cannot repeat.

GOLDBERG: Then give me the respect of watching me while I'm doing my thing, or don't come.

SUNNY HOSTIN: Maybe I want to play it again?

GOLDBERG: Turn on the television, girl.

JOY BEHAR, OTHERS: Where are you going?

GOLDBERG: I'm leaving y'all.

...

NARRATOR: Hold onto your hats, because it looks like Whoopi Goldberg is stirring up a storm over at "The View" again. The word on the celebrity grapevine is that her co-hosts are just about ready to roll their eyes into next week because of her shenanigans. Can you believe it? Now, here's the kicker. It seems like our girl Whoopi is in full damage control mode. Yep, you heard it right.
Second Video
Similarly, another celebrity news YouTube channel known as Spill Today published a video titled, "'The View' Hosts BLAST Whoopi Goldberg LIVE For DESTROYING The Show," along with a thumbnail image that said Goldberg's co-hosts had said to her, "[They] canceled us because of you!"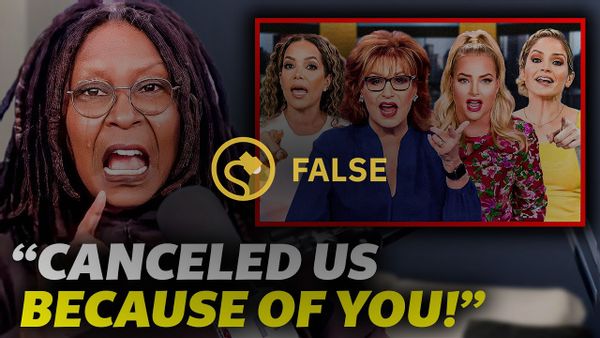 This second video also received hundreds of thousands of views.
'Off the Air' and 'Canceled'
Here's the truth: First, both videos featured clips from the "Doug In Exile" YouTube channel about "The View" being "off the air." However, these clips were presented out of context.
In the original clip, host Doug TenNapel had said that "The View" was going off the air for a summer hiatus, which was true.
Further, we previously reported about a separate rumor that also falsely claimed "The View" had been canceled.
AI Narrator Voice
Second, both of these videos featured narration from a voice that had been generated by artificial intelligence.
The vast majority of the commenters under the videos did not mention the AI voice, which perhaps meant they didn't even realize it was fake.
These Rumors Were Made Up
Third, and perhaps most important, the videos presented no evidence that "The View" was being canceled or ending anytime soon, nor did it provide proof that Goldberg's co-hosts had said, "[They] canceled us because of you!"
Basically, these rumors were made up.
The video from the Just In YouTube channel included a disclaimer that said its content might contain "gossip, rumors, or exaggerated," which seemed to be a bit of an understatement.
'Satire' Reported as Fact
In recent days, we reported on two other videos about Goldberg that came from these same kinds of highly-misleading celebrity news YouTube channels. One of the videos claimed that Goldberg was being sued by country singer Jason Aldean. Another video said film actor Tom Selleck had chided Goldberg for her remarks about Aldean. Neither of these claims were true, as they both originated on a website that described its content as satirical in nature.
According to information that we found in the "page transparency" section of Facebook pages that appeared to be connected to some of these celebrity news YouTube channels, the videos might have been created by people living in Indonesia and also in India and United Arab Emirates, as well as potentially other countries in Asia.