Claim:
Images shared in October 2023, authentically showed an enormous crowd of Israelis demonstrating support for their country.
Context
The in-question images were generated using artificial intelligence (AI). They were not shared by an official X account of Israel, as some social media users claimed.
In late October 2023, a photo went viral on social media, allegedly depicting a crowd gathered in Israel. "You can't defeat such a nation," one post published on X (formerly Twitter) read.
You can't defeat such a nation pic.twitter.com/AmKl52mxI4

— iMac_too (@iMac_too) October 15, 2023
Google reverse-image search results showed that the same image was shared on social media multiple times. "Am Israel chai 🇮🇱 bring our family home," one post on Instagram captioned the image. "Is this real?" other social media wondered. "The most united and strong people of Israel!" another post in Spanish captioned the image. Moreover, some social media users used the image to encourage prayers:
Pray for the peace of Jerusalem, "May those who love you be safe, peace within your walls, and security within your fortresses."
While some social media users shared the photo to show support for Israel, others noticed — rightly — that there was something wrong with the picture.
— Philip Proudfoot (@PhilipProudfoot) October 22, 2023
The image was, as many suspected, an AI-generated fake. There were also people who claimed the fake image was promoted on social media by the Israeli government itself. For instance, one user shared the image on X with the caption "🇮🇱 Another FAKE from @Israel," tagging an official X account of Israel. "AI generated "support" for Israel, you cannot match the support that the Palestinians have," another X user commented. In a similar tone, another one wrote, "Having to resort to AI to fake public support is insane and also very embarrassing." On one online forum, users debated why Israel was producing "fake looking AI images" so easy to spot:
Israel uses the free version to generate extremely fake looking AI image of Israelis supporting IDF instead of paying $30 to use proper AI tools that can generate very hard to spot fakes. Why are they being so cheap?
However, Snopes found no evidence that Israeli officials have ever shared the in-question photograph. It was first published by Omri Shafi on Oct. 11, 2023, with a caption that read (we translated it using Google Translate; emphasis ours):
A lot of this war is psychological
So let's imagine our victory picture and so it will be!
** Sharpened - Of course in war there are many losses but there is a big but here! We must stay in high energy and consciousness, we can't give what happens and happens!!! To break our spirit look at the bright side of the picture literally..
*The images were created using artificial intelligence.
The image was subsequently shared by the @livefromisrael Instagram account, which might have caused some social media users to believe it was published by Israeli officials. The @livefromisrael account is dedicated to tourism.
The image had the usual tell-tale signs of being generated by artificial intelligence (AI). For instance, various bodies were deformed and people were standing in the air: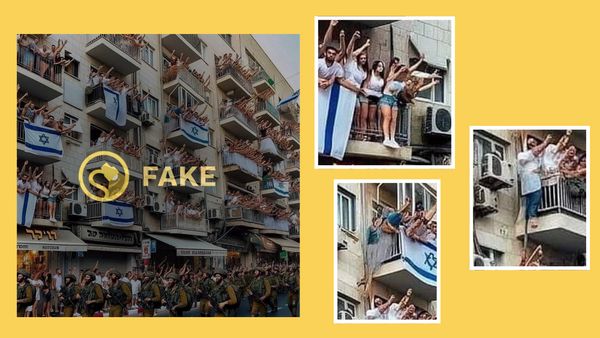 (Instagram user @livefromisrael)
Moreover, the author shared other similar pictures that would go on to be re-shared without proper captions labeling them as AI-generated.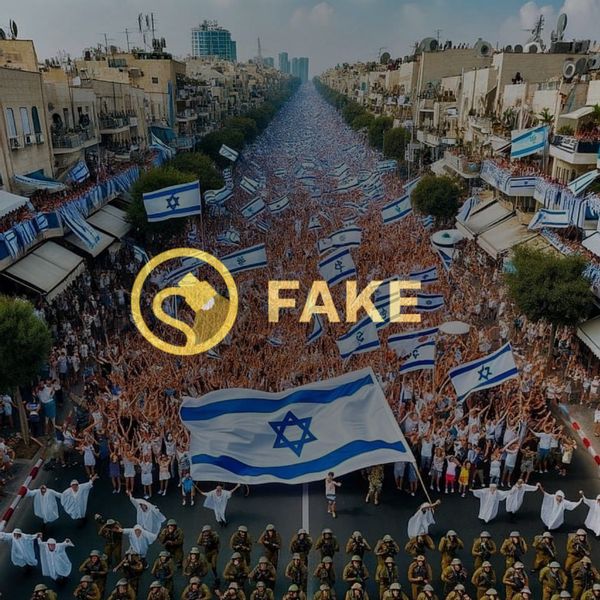 (Instagram user @livefromisrael)
A comment under one of the viral AI-generated images depicting crowds in Israel read:
Do you really need to use AI to show that you're supported? Did your decades of marketing, indoctrination in synagogues across the world, paying people to post on your behalf, your campaigns to get people fired for boycotting you not get you any real support? Did it all fail this so dramatically that you can't gather 10,000 people in one place in one country to support you? Thank you for teaching us that even when you go to these lengths to deceive the world, the truth will always blare louder, and when push comes to shove, when you thought all your tactics would work, all you're left with is a hollow picture created by a machine that doesn't know between wrong and right. It's a reflection of you. You have truly lost the the minds of the people of earth, and the politicians will follow.
All in all, the images were AI-generated, and therefore we have rated the claim as Fake. Moreover, the rumor that they were shared by the official @Israel X account is false.
We encourage you to read other articles on the topic of Hamas-Israel war that you can find in our archives.