Claim:
A real vintage advertisement for Camels featured a doctor and the slogan "More doctors smoke Camels than any other cigarette."
In June 2023, an alleged vintage Camel advert went viral, showing doctors smoking cigarettes to prove it was a healthy choice. The image included slogans such as "The doctors' choice is America's choice" and "More doctors smoke Camels than any other cigarette."
In the early 1950s, cigarettes were indeed promoted as being good for health, which may seem surprising given what we know today about the harmful effects of smoking. During that time, cigarette advertising campaigns often featured doctors, celebrities, and even athletes… pic.twitter.com/zExg4zbemw

— Historic Vids (@historyinmemes) June 22, 2023
The ad is authentic, and according to Stanford Research into the Impact of Tobacco Advertising, it dates back to 1952. In fact, tobacco companies used to involve the medical community in their advertisements before studies proved that cigarettes are linked to cancer, and similar images have been circulating online for years. The advert in question, apart from claiming that Camels had "a flavor unmatched by any other cigarette," underlined that doctors enjoyed the cigarette. Moreover, at the bottom of the image, famous characters such as Maureen O'Hara and Ralph Bellamy were cited to prove that Camels were not only approved by doctors but also by singers and actors. Interestingly, while the ads mentioned celebrities by name, the doctors were never specific individuals, as they could risk losing their licenses. 
The "More doctors smoke Camels" line was used in most popular radio programs, medical journals, and magazines such as LIFE, TIME, and The Saturday Evening Post. Moreover, the advert claimed it was the most popular cigarette brand by doctors "from every branch of medicine."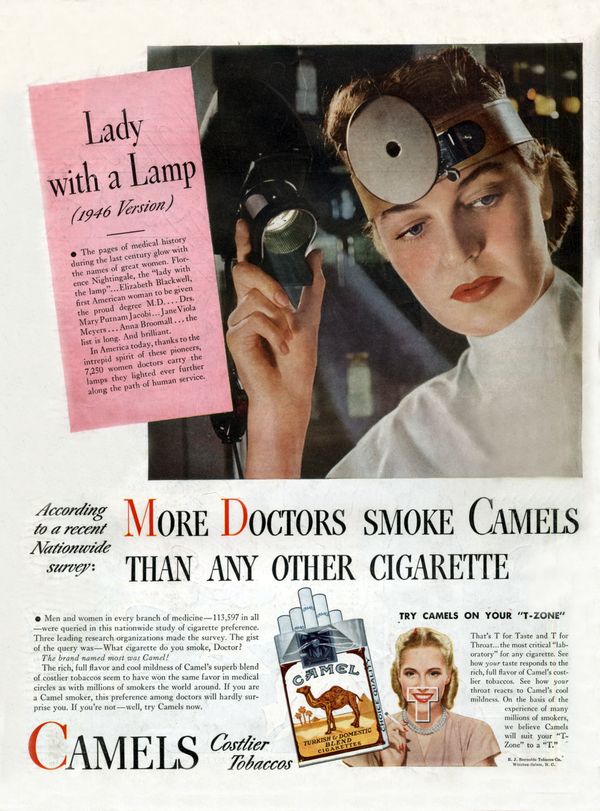 More doctors smoke camels than any other cigarette, advertisement for cigarettes in 1946. (Apic/Getty Images)
The Center for the Study of Tobacco and Society at the University of Alabama wrote that "although the company claimed the campaign was based on as survey of 113,597 physicians, the methodology was not described, and it is not known if free samples of Camels had been sent to doctors just prior to the survey."
We have fact-checked vintage cigarette ads before. In May 2023, we investigated an alleged ad featuring a pregnant woman smoking. It turned out that the advertisement in question came from the BioShock video game series. In contrast, a vintage Philip Morris cigarette ad authentically featured an illustration of a mother holding her baby and the slogan, "Born gentle." And if you want to explore more vintage ads with the "More doctors smoke Camels than any other cigarette" slogan, see this Stanford page.