Claim:
Oscar-winning actor Denzel Washington publicly spoke out against Hollywood for the way the town had purportedly reacted to "Sound of Freedom."
On July 23, 2023, a purported celebrity news YouTube channel known as Spill Today (@spilltoday554) published a new video that claimed Oscar-winning actor Denzel Washington had "raged" at Hollywood for the way it reacted to the release of "Sound of Freedom," a film centered on child sex trafficking. The title read, "Denzel Washington RAGES at Hollywood For BANNING 'Sound of Freedom.'"
By Aug. 9, the video had been viewed more than 1.4 million times.
The thumbnail image included with the video showed what appeared to be an altered picture of Washington's face with the words, "This was the last straw!" Also displayed was a photograph of Oscar-winning actor and director Mel Gibson with duct tape over his mouth alongside a "Sound of Freedom" poster and a picture of entertainment icon Oprah Winfrey. Gibson had previously recorded a video in mid-2023 that promoted the film, but was not involved in its production.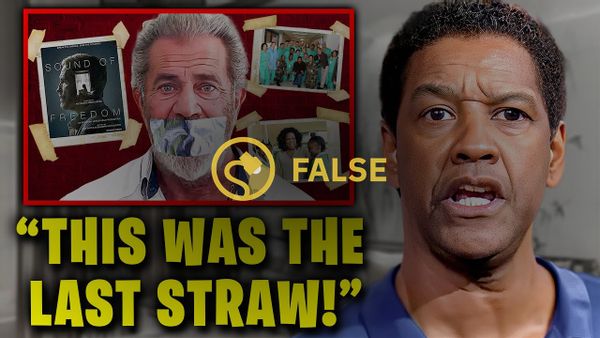 The video included narration by a voice that had been generated using artificial intelligence (AI). The clip began as follows:
MEL GIBSON: One of the most disturbing problems in the world today is human trafficking.

DENZEL WASHINGTON: So what a responsibility you all have to be, to tell the truth. Not just to be first.

GIBSON: Now, the first step in eradicating this crime is awareness. Go see "Sound of Freedom."

JOURNALIST: What do you make of all the "fake news" [claims]? Does it effect you?

WASHINGTON: If you don't read the newspaper, you're uninformed. If you do read it, you're misinformed.

NARRATOR: Among all the controversies and scandals that constantly hog the headlines, there's this one movie that's spilling the beans on a dark and sinister secret: illegal human trade. "Sound of Freedom" is literally showing us the bad and the ugly side of Hollywood. And here's the worst part: The industry seems to be giving it the cold shoulder, like they don't want it to succeed. But guess who's not having any of that nonsense this time? None other than the one and only Denzel Washington. Yep, you heard it right. This popular celebrity is putting his foot down and taking a stand against the industry's shady tactics. So, what exactly did Denzel say?

WASHINGTON: So what a responsibility you all have to be, to tell the truth. Not just to be first.
Most of the commenters under the video appeared to believe the video's title without questioning it. However, a very small number of users questioned the central claim, that being the idea that Washington had made public comments about "Sound of Freedom."
"It's funny how the narrator talks for 20 minutes about what Denzel supposedly says, yet shows none of him actually saying these things," one rightly-skeptical user said.
Another person remarked, "You know, it would be nice to hear some of these things in Denzel's own words rather than just a narration of what he has said."
The reason why the video didn't show any evidence that Washington had publicly spoken out about "Sound of Freedom" was because he never did. There's no record of him ever having made remarks about the film, nor did we find proof that he said Hollywood's supposed reaction to the movie was "the last straw" for him.
Further, a content label appeared on screen during the video that read, "Disclaimer: Content might be gossip, rumors, or exaggerated."
Washington's remarks about the "responsibility" of journalists "to tell the truth" were originally made in December 2016, according to USA Today. In the misleading YouTube video from Spill Today, his remarks were intercut with Gibson's 2023 video that promoted "Sound of Freedom." In other words, Washington wasn't speaking about the movie that was still more than six years away from being made and released.
We previously reported about how these same sorts of celebrity news YouTube channels claimed in other videos that actor Mark Wahlberg and Oscar winner Matthew McConaughey had also spoken out in support of "Sound of Freedom." However, once again, there was no record of either actor ever having made remarks about the movie.
From what we can gather, the purpose of these kinds of videos is to trigger emotions in receptive viewers with phrases like "Hollywood elites," hoping that they would watch the videos, forget about the misleading clickbait thumbnail images that led them to click on them, and view multiple YouTube ads, all so that the clip's creators could earn money.