Claim:
Oscar-winning actor Matthew McConaughey made remarks about the film "Sound of Freedom," saying that people in Hollywood had "all sold their soul."
On Aug. 1, 2023, a purported celebrity news YouTube channel named Just In (@JustInCeleb) published a new video with a thumbnail image that showed Oscar winner Matthew McConaughey and the poster for "Sound of Freedom," a film centered on child sex trafficking. The thumbnail also displayed the words, "All Sold Their Soul!," an apparent quote that referenced the video's title, "Hollywood PANICS As Matthew McConaughey Provides SOLID Evidence Of Their Dark Side."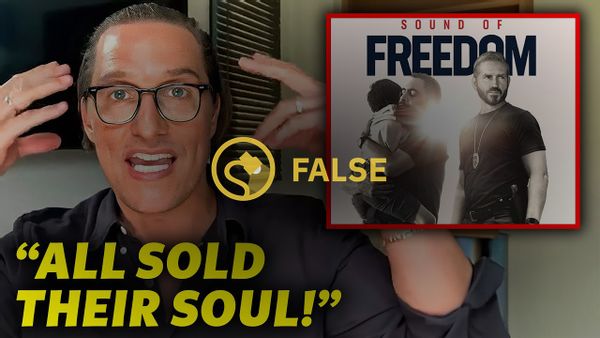 However, we found no evidence that McConaughey had ever publicly spoken about "Sound of Freedom," nor did we locate documentation that showed he had said the quote about people in Hollywood having "all sold their soul."
The video in question showed a disclaimer onscreen multiple times that said its "content might be gossip, rumors, or exaggerated."
A Facebook page bearing the Just In logo showed in its "Page Transparency" section that it was being managed from Indonesia. It's unclear if the YouTube channel was also managed from the same country.
We reached out to an email address associated with the YouTube channel to ask several questions. This story will be updated if we receive a response.
The video presented several outdated video clips of McConaughey speaking and featured narration that examined parts of his career. The voice for the narration sounded like it had been generated by an artificial-intelligence (AI) tool.
In the first clip at the very beginning of the video, McConaughey said, "I didn't get work ... I didn't work for over two years. Hollywood forgot me." This moment came from an interview (1:37) that was published by CNN in May 2021. The context of the remarks was that, in the past, he had decided to stop accepting roles for romantic comedies so that he could take on roles with more depth and meaning.
In the second clip in the Just In video, McConaughey said, "It's just so arrogant and in some ways hypocritical to me." This moment was from an interview (2:36) with podcaster Joe Rogan from October 2020. In the clip, McConaughey was expressing his views about how some people associated with the film industry "go to the left so far" in a "condescending and patronizing" way with how they react to peers associated with the Christian faith.
Just before the video's narration begins, a third clip showed McConaughey saying, "So, they're putting down their last bastion of defense." This remark was from an interview (4:05) with podcaster and actor Russell Brand that took place in early December 2020, after U.S. President Joe Biden was declared the victor in the election, and before the violent Capitol riot on Jan. 6, 2021.
The context of McConaughey talking about a "last bastion of defense" was a reference to how some supporters of then-U.S. President Donald Trump were reacting at the time to news of Biden's win:
There is a lot on that illiberal left that absolutely condescend, patronize, and are arrogant towards that other 50 percent. Many people were in de– I know, you know, I'm sure you saw it, in our industry when Trump was voted in four years ago. They were in denial that it was actually, that it was real. That's, and some of them went, were in absolute denial. And even now, we're gonna see how we, if we can stabilize, coming out of, looks like Biden's our guy.

Well now, you've got (laughs), now you've got the right that's in denial, because that's like, 'It's fake news.' And I understand. They've been fed fake news. No one knows who the hell to believe, right? So they're putting down their last bastion of defense.
After an examination of the video, we determined that the claims being made by the thumbnail image and "Hollywood PANICS" title were nothing more than misleading clickbait.
We previously reported about false rumors from two other videos that claimed stand-up comedian Dave Chappelle had "exposed" entertainment icon Oprah Winfrey for being "a handler for Hollywood elites" and that the late Irish singer-songwriter Sinead O'Connor had sent a "major warning" about Hollywood just before her death. The O'Connor rumor had also come from the Just In YouTube channel.