Claim:
Costco signaled that it plans to permanently discontinue Bud Light at one or more locations by placing an asterisk (aka "death star") on its price labels and signage for the product.
Context
Shoppers at Costco, a members-only grocery chain, posted photos taken at various locations across the country that showed price labels and signs accompanying displays of Bud Light marked with a black asterisk. The asterisk, aka "star of death," usually indicates an item won't be restocked for a period of time (or in some cases, permanently). It's unknown whether a decision not to restock Bud Light would be local or national, whether it would apply to all locations or only select ones, or whether it would be permanent.
In early July 2023, customers shopping at the members-only grocery chain Costco reported noticing that a tiny black asterisk had appeared on the stores' Bud Light price labels and signage at various locations across the United States. It sparked a national controversy.
The symbol, popularly dubbed a "death star" or "star of death," is used by the grocery chain as an indicator that an item will not be reordered and/or restocked, in some cases temporarily and in other cases permanently. The designation came in the wake of the beer brand's partnership with actress and Tiktok influencer Dylan Mulvaney, who is transgender, which caused a flurry of transphobic backlash against both Bud Light and Mulvaney. Conservative figureheads such as Ben Shapiro and Travis Tritt called for a boycott of the brand.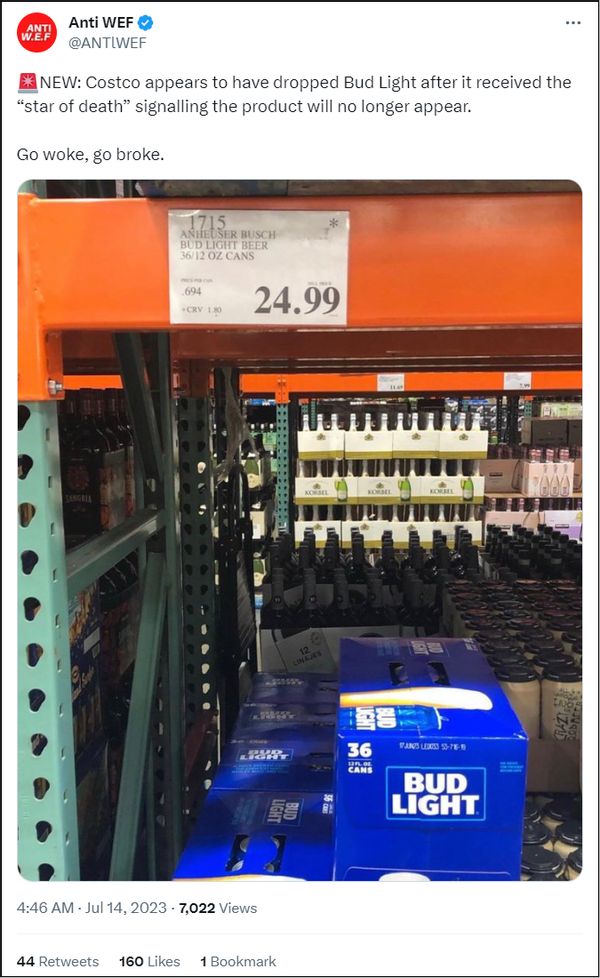 (@ANTIWEF/Twitter)
Subsequently, Twitter users and media outlets posted and reposted different photographs of Costco Bud Light displays labeled with the "death star," and some celebrated what they took to be the consequence of partnering with a trans spokesperson. One online news site declared Costco is "Kicking [Bud Light] Out." Another user wrote: "Go woke, literally go broke."
The photographs, at least, appear legitimate. Pictures containing the "death star" did not appear to be digitally manipulated. Reverse searches of the photographs yielded results from within the previous few weeks, which also suggests the pictures were authentically recent.
However, the actual meaning and scope of the "death star" designation for Bud Light remains largely unknown. Representatives from Costco did not respond to requests for comment on the reason for the asterisks, the number of locations it would impact, or the length of time any discontinuation might last (sometimes asterisks are issued for products that are only stocked seasonally).
Furthermore, on July 13, popular content creator and urban planner Hayden Clarkin tweeted photographs taken at a Costco showing cases of several other brands of beer and alcohol that also bore the star of death — such as Sam Adams and Twisted Tea. The photos appeared to indicate that Bud Light may not be singled out all.
Literally just went to Costco and a majority of drinks have the Death Star so… pic.twitter.com/3aql5lHNWl

— Hayden Clarkin (@the_transit_guy) July 13, 2023
Therefore, we have rated this claim as "Unproven." While the photographs of Bud Light with "death stars" are real, there is no evidence to indicated that the product would be permanently removed from Costco, or that the labeling was motivated by politics or the boycott.