On Oct. 7, 2023, the X (formerly Twitter) account of Starbucks Workers United — a union representing more than 360 locations and 9,000 partners across the U.S. according to its website — retweeted a post depicting a bulldozer tearing down part of the fence surrounding Gaza, captioned "Solidarity with Palestine!" The post was no longer publicly visible on the account page, as of this writing.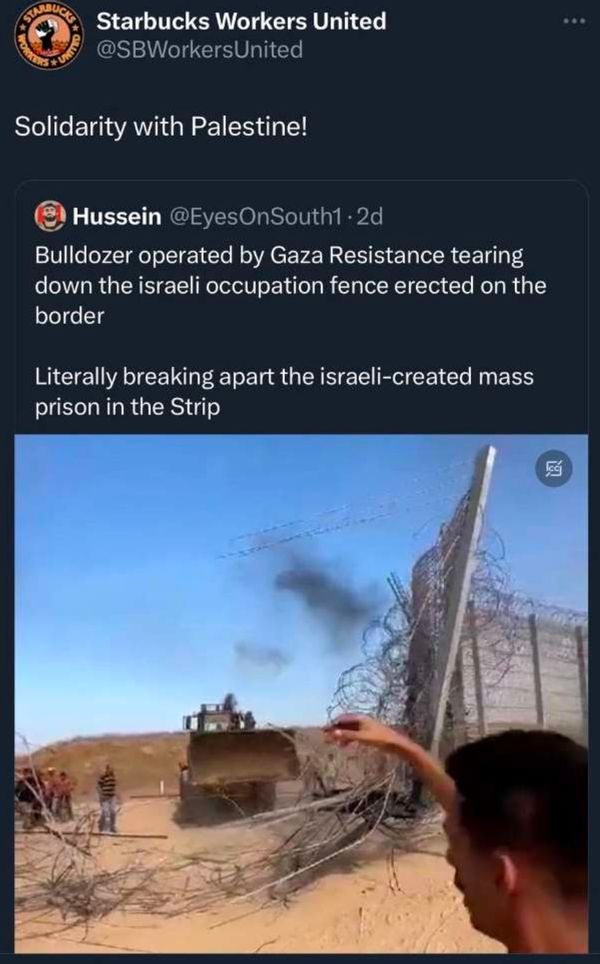 (Image via Starbucks Corporation official complaint filed Oct. 18)
Hamas carried out attacks in Israel on Oct. 7, and what ensued in the days and weeks to follow was the declaration of an all-out war by Israel in response to Hamas' attacks, which had resulted in approximately 1,400 deaths of Israelis (the majority of which occurred on Oct. 7), as reported by official Israeli sources to the UN, and 7,028 Palestinians as of this writing, according to the Health Ministry in Gaza.
Iowa City Starbucks Workers United, representing the first unionized Starbucks in Iowa, also retweeted and shared messaging related to demonstrations in Chicago and Des Moines and statements of solidarity with Palestine from Restaurant Workers United and Workers in Palestine.
It's important to note that while Starbucks Workers United and Iowa City Starbucks Workers United explicitly expressed solidarity with Palestine, they did not mention Hamas. It's also important to note that these unions are entities separate from Starbucks Corporation.
On Oct. 11, Starbucks Corporation responded, saying:
To be clear: We unequivocally condemn these acts of terrorism, hate and violence, and disagree with the statements and views expressed by Workers United and its members. Workers United's words and actions belong to them, and them alone.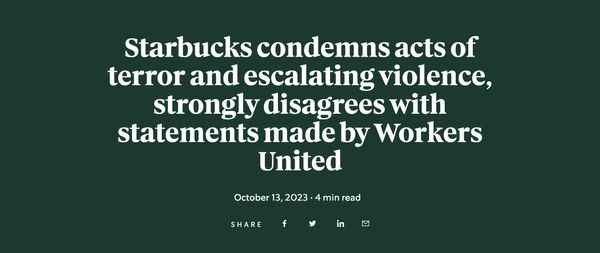 (Image via Starbucks Stories and News)
On Oct. 17, Sara Kelly, executive vice president and chief partner officer of Starbucks, additionally stated:
On Friday [Oct. 13], we contacted Workers United demanding they 1) immediately stop using our company name, logo and intellectual property, and 2) issue an immediate correction. This morning, unfortunately, they rejected that request. As a result, Starbucks will file litigation against the union in federal court, and we intend to pursue all legal options in defense of our partners and our company.
On Oct. 18, Starbucks Corporation filed a lawsuit in the U.S. District Court for the Southern District of Iowa Eastern Division against both Starbucks Workers United and Iowa City Starbucks Workers United, as well as Service Employees International Union and Workers United for their "inflammatory and misleading" communications concerning the union's "social media posts in support of violence in Israel starting immediately after reports emerged that Hamas had attacked civilians in Israel," according to the filed complaint.
(Document via Pacer)
"Such messages, as captured by the posts above, do not, and have never, reflected Starbucks official position," reads the complaint on page 28.
The company asserted that the union's actions had spurred property damage, threats, and calls for a boycott; however, the official basis of the lawsuit rests on trademark dilution and infringement. It continues:
As a result of the social media posts by Defendants using the Starbucks Marks and Starbucks Works, Starbucks received hundreds of complaints from customers and other members of the public in the immediate aftermath, chastising and singling out Starbucks—not Defendants—for supporting Hamas. Starbucks continues to receive such complaints as a direct result of the demonstrable consumer confusion as to responsibility and actual beliefs created by Defendants' use of Starbucks Marks. Such complaints vividly illustrate the actual confusion and dilution (most notably, in the form of tarnishment) caused by Defendants' use of the Starbucks Marks and Starbucks Works.
On Oct. 20, Starbucks Workers United posted a statement reaffirming its solidarity with Palestine on its X and Instagram (jointly posted with Jewish Voice for Peace) accounts. The first part of the statement read as follows:
THE MEMBERS OF STARBUCKS WORKERS UNITED STAND IN SOLIDARITY WITH THE PALESTINIAN PEOPLE'S RIGHT TO SELF-DETERMINATION.

We are opposed to violence, and each death occurring as a result of violence is a tragedy. We absolutely condemn antisemitism and Islamophobia. Our union's members endorse the comprehensive statement of support from Jewish Voice For Peace [statement linked here], which provides powerful context on why we all must stand in solidarity with Palestinians. This statement reflects the diversity of our campaign; we are a union with Jewish, Palestinian, and Muslim workers.

WE CONDEMN THE OCCUPATION, DISPLACEMENT, STATE VIOLENCE, APARTHEID, AND THREATS OF GENOCIDE PALESTINIANS FACE.
The statement continues by addressing Starbucks' lawsuit directly:
FURTHERMORE, WE CONDEMN STARBUCKS FOR SHAMEFULLY USING THIS DEVASTATING HUMANITARIAN CRISIS TO MAKE FALSE STATEMENTS AGAINST OUR UNION AND TO VILIFY US.

Our members face threats and harassment across our country, which are disproportionately affecting our Muslim, Jewish, and Palestinian co-workers. If Starbucks is concerned about the "safety and well-being" of its workers, as they have recently claimed, we suggest that the company bargain in good faith with us regarding the health and safety provisions proposed by the union months ago. Instead, it appears the company seeks to score points by baselessly attacking our union. We demand Starbucks apologize and acknowledge the harm they've done.

WE CALL ON OTHER LABOR UNIONS TO STAND IN SOLIDARITY WITH STARBUCKS WORKERS UNION ON THESE TWO ISSUES.
The post had received 137,848 likes on Instagram and 3.2 million views on X at the time of this writing.
In sum, Starbucks Workers United has not explicitly expressed public support for Hamas, though it did express support for Palestine. This position is not shared by Starbucks Corporation.