Following the Oct. 7, 2023, surprise attack and mass kidnapping of Israeli citizens by Gaza-based Hamas militants, the Israeli Defense Forces (IDF) began a massive military campaign against the Palestinian enclave. Photos of IDF actions around the Gaza City seaport on Oct. 11, 2023, have since been used as evidence that Israel used white phosphorus munitions in this heavily populated civilian area, in contravention of international norms and law.
White phosphorus (WP), a solid that burns at extremely high temperatures when exposed to oxygen, is a common component of smoke-screen munitions that has also been used by many armies — including the U.S. military — as an incendiary device. When such a weapon is used over civilian populations, it is presently considered a violation of a number of international agreements or humanitarian norms due to the indiscriminate nature of its delivery, and its potential to cause extreme bodily harm.
As described by the NGO Human Rights Watch (HRW), WP, in addition to destroying property and infrastructure, can cause both immediate and life-long suffering when it comes into contact with human skin:
White phosphorus causes severe burns, often down to the bone, that are slow to heal and likely to develop infections. If not all fragments of white phosphorus are removed, they can exacerbate wounds after treatment and reignite when exposed to oxygen. White phosphorus burns on only 10 percent of a human body are often fatal. It can also cause respiratory damage and organ failure.

Those who survive their initial injuries often experience a lifetime of suffering. Contractures—the permanent tightening of muscles and other tissue—impede mobility, while the trauma of the initial attack, painful treatments, and appearance-changing scars lead to psychological harm and social exclusion.

The fires caused by white phosphorus can also destroy civilian structures and property, damage crops, and kill livestock. Furthermore, inadequate resources available to medical providers in armed conflict settings exacerbate the already challenging process of treating serious burns.
A tweet from the X social media account War Monitor on Oct. 11, 2023, for example, claimed in a viral post that a series of photos "confirm[ed] the use of phosphorus munitions on Gaza a short while ago." The photos show military action on and around the Gaza City seaport: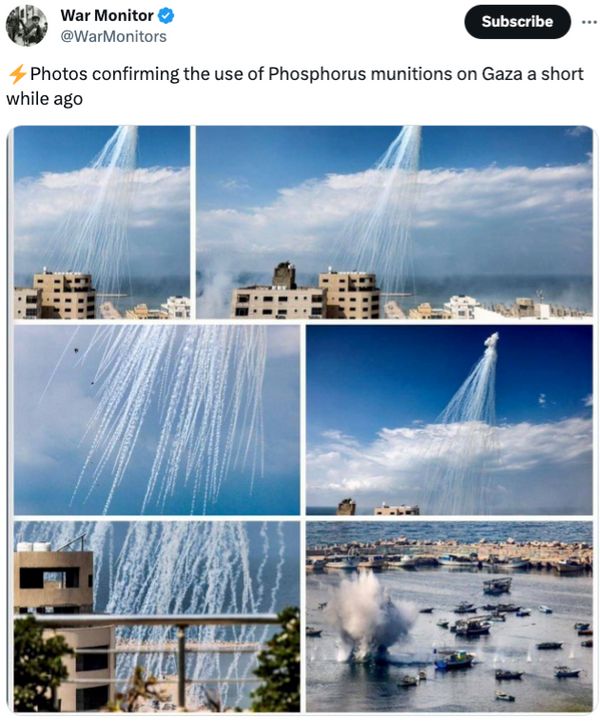 Palestine's foreign ministry leveled the same accusation, and several outlets or social media accounts also strongly suggested that those images, and also videos, like the one below, provided evidence of WP's use:
In the densely populated Port of Gaza, Israel is employing white phosphorus shells pic.twitter.com/8a403zKLv0

— Russian Market (@runews) October 12, 2023
The photos in the viral tweet and related videos genuinely show military activity over the Gaza Strip on Oct. 11, 2023. Taken by photojournalist Mohommed Abed, the photos are available to journalists in the Getty Images editorial library and have been widely published. Videos showing the same explosion from a different perspective also confirm the timing and context of the explosions:
On Oct. 12, 2023, the NGO Human Rights Watch (HRW) announced its view that WP was used by the IDF on Oct. 10-11 in three areas, including the seaport. Israel has not commented on the matter. Asked for comment by Reuters, a spokesperson for the IDF said it was "currently not aware of the use of weapons containing white phosphorus in Gaza."
Israel's Past Use of WP
On Dec. 27, 2008, Israel launched a 22-day military operation on the Gaza Strip in response to rockets fired from the enclave. In the final days of that operation, Israel was accused of using white phosphorus weapons in proximity to civilian centers, including the UN's agency for Palestinian refugees (UNRWA) and a nearby hospital.
At first, Israel denied its use. In a scathing 74-page report issued in 2009, HRW disputed these denials. As reported by The Guardian in January 2009, Israel later admitted WP could, in fact, have been improperly used:
Israel has admitted – after mounting pressure – that its troops may have used white phosphorus shells in contravention of international law, during its three-week offensive in the Gaza Strip.

One of the places most seriously affected by the use of white phosphorus was the main UN compound in Gaza City, which was hit by three shells on 15 January. The same munition was used in a strike on the al-Quds hospital in Gaza City the same day.

Under review by Colonel Shai Alkalai is the use of white phosphorus by a reserve paratroop brigade in northern Israel. According to army sources the brigade fired up to 20 phosphorus shells in a heavily built-up area around the Gaza township of Beit Lahiya, one of the worst hit areas of Gaza.
In that 2009 case, as HRW documented, American-made WP shells fired from 155mm-caliber Howitzer guns burst in the air above their target, splintering, by design, into 116 solid shards of burning, white phosphorus that brought both smoke and flame to the ground below: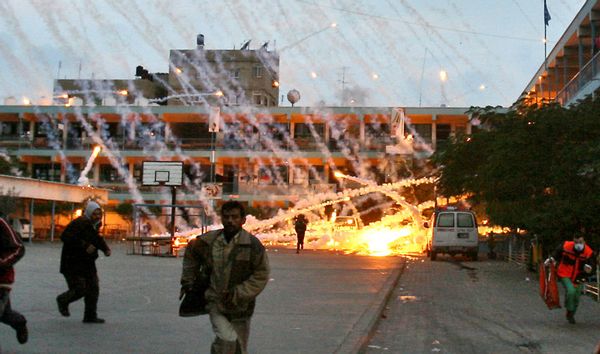 As Middle East Eye reported shortly after images of explosions were posted in 2023, "sources on the ground reported seeing scenes consistent with past Israeli white phosphorus use in Gaza, including during the 2008 conflict." Indeed, a comparison of the air-blast explosions involved in the 2008-09 offensive and in October 2023 show what appear to be remarkably similar effects: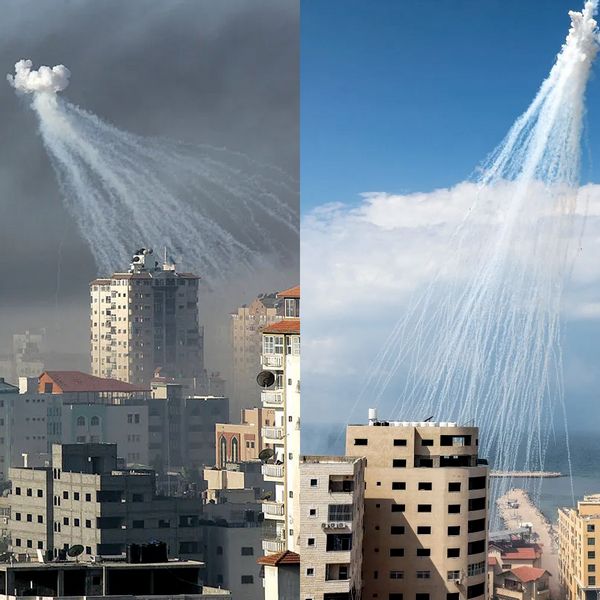 White phosphorus used over Gaza on January 15, 2009 (Left); Explosions over Gaza on October 11, 2023 (Right)
This similarity alone does not "confirm" the use of white phosphorus munitions in the 2023 conflict, because Israel has other weapons that create smoke screens without WP.
Didn't Israel Say It Would Stop Using WP?
In 2013, in large part due to outrage over its use in the 2008-09 conflict, the IDF committed to removing phosphorus munitions from its arsenal. As described by HRW, however, Israel's commitment to not using WP over populated areas came with vague loopholes and no substantive commitments:
In 2013, in response to a petition before Israel's High Court of Justice regarding the Gaza attacks, the Israeli military claimed that it would no longer use white phosphorus in populated areas except in two narrow situations that it revealed only to the justices. In the court's ruling, Justice Edna Arbel explained that the conditions would "render use of white phosphorous an extreme exception in highly particular circumstances.

"Although this pledge to the court did not represent an official change in policy, Justice Arbel called on the Israeli military to conduct a "thorough and comprehensive examination" and adopt a permanent military directive.
As reported by The Associated Press in 2013, Israel pledged to transition to smoke munitions that were not incendiary:
Israel's army said [...] that it would soon halt its use of white phosphorus shells after years of international criticism for using the incendiary munitions in crowded Palestinian areas. The army said in a statement that it would replace white phosphorus shells with ones based entirely on gas.
That replacement gas was hexachloroethane (HC). The Israel-based weapons manufacturer Elbit Systems, which is the exclusive munitions provider to the IDF, developed an "improved" 155mm-caliber HC shell as a replacement for the IDF's WP stockpile.
In a 2019 Elbit presentation to the National Defense Industrial Association, the company described that product, the M150, as a replacement for Israel's previous WP munitions. This weapon releases five canisters of HC gas from a 155mm caliber shell designed, like the WP munitions, to air-blast above the target region: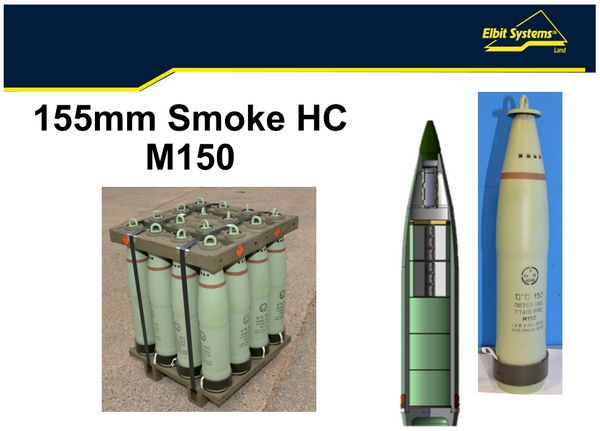 So Was It HC Smoke?
There is evidence that Israel has previously put the M150 HC munitions into use. The M150 was alleged, as an example, to have been used by the IDF preceding a 2021 Israeli strike on an agrochemical warehouse, the Khudair Warehouse, in the Gaza Strip.
In that case, the literal canisters from the M150 were found on the ground. A video alleged by the investigative outlet Forensic Architecture to show an M150 munition used during that operation clearly shows 5 smoke trails — one for each canister — following an airburst: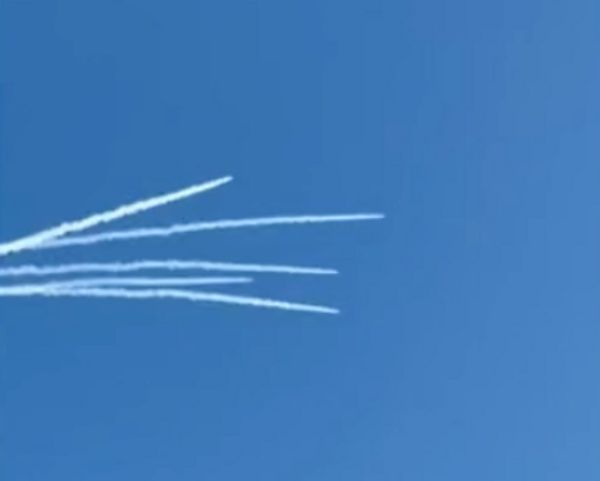 (Forensic Design)
Those visuals are distinct from the videos and images alleged to show the use of WP in Gaza in October 2023, which show over 100 individual streams of smoke following an airburst. A close look at the burst of one of these munitions, from a photo taken on Oct. 11 from the same area, shows what appears to be burning shards of solids causing the trails through the air: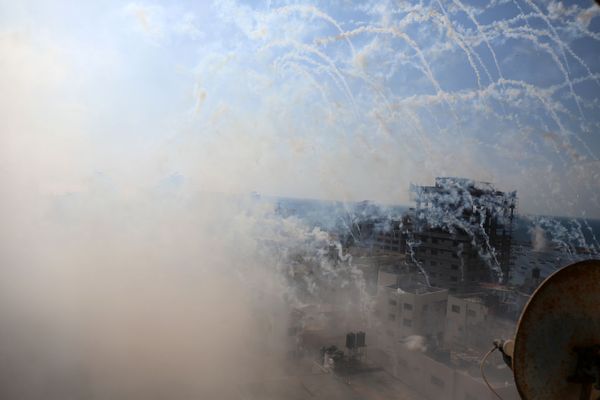 Another photo from Oct. 11 shows what appears to be a burning solid on asphalt, which is also consistent with a WP munition and inconsistent with an HC munition: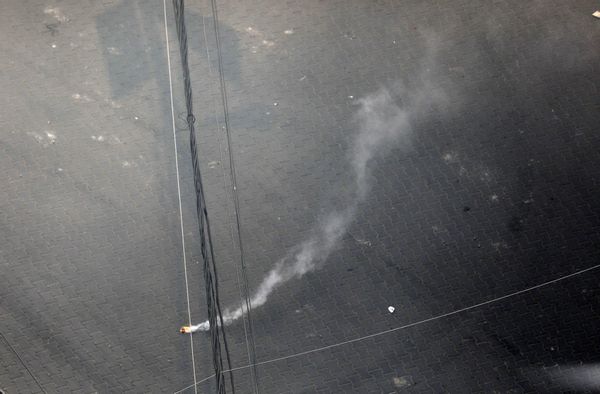 HRW, in its report on the Oct. 10-11 use of WP by the IDF, included witness testimony consistent with WP as well:
On October 11, Human Rights Watch interviewed by phone two people from the al-Mina area in Gaza City, who described observing strikes consistent with the use of white phosphorus. One was in the street at the time, while the other was in a nearby office building.

Both described ongoing airstrikes before seeing explosions in the sky followed by what they described as white lines going earthward. [...] Both said that the smell was stifling. The person who was in his office said that the smell was so strong that he went toward the window to see what was happening and then filmed the strike.

Human Rights Watch reviewed the video and verified that it was taken in Gaza City's port and identified that the munitions used in the strike were airburst 155mm white phosphorus artillery projectiles. Other videos posted to social media and verified by Human Rights Watch show the same location. Dense white smoke and a garlic smell are characteristics of white phosphorus.
Israel is not a party to any treaty that bans use of WP in populated areas, but such a use is — at the very least — in violation of international norms when it comes to modern warfare, as explained by HRW:
When used as a weapon, munitions with white phosphorus are considered incendiary weapons. Although incendiary weapons are not explicitly banned by international humanitarian law, customary international humanitarian law requires states to take all feasible precautions to avoid the harm to civilians caused by those weapons.

In addition, incendiary weapons are governed by Protocol III to the [Convention on Certain Conventional Weapons]. Palestine and Lebanon have joined Protocol III, while Israel has not ratified the protocol.

Protocol III prohibits the use of airdropped incendiary weapons in "concentrations of civilians," but it has [...] significant loopholes.
While all airburst smoke screens created by the IDF forces are not, de facto, the result of WP munitions, the HC munitions used to create smoke screens without WP are inconsistent with the photos and videos from Gaza City's seaport on Oct 11, 2023.
Though these videos and photos may not be confirmation of the use of white phosphorus munitions over populated areas by Israel, they are strong evidence in support of that conclusion.