On Oct. 2, 2023, former U.S. President Donald Trump appeared, in person, to witness the proceedings in a case brought by New York City Attorney General Letitia James against his business empire. James accused Trump's businesses and business associates of "persistent and repeated business fraud." The case, notably, is a bench trial in which a single judge, Justice Arthur F. Engoron, not only controls the proceedings but ultimately rules on the facts of the case as well.
In a "makeshift" press conference held during a break in the first day's proceedings, Trump stated that "I think it's very unfair I don't have a jury." Legal experts and pundits immediately questioned the claim on the basis that, generally speaking, anyone in New York State is given the right to a trial by jury, as opposed to a bench trial.
"I think it's very unfair I don't have a jury" -- Trump, who doesn't have a jury because his lawyers elected not to have one pic.twitter.com/N2K5FHMOQk

— Aaron Rupar (@atrupar) October 2, 2023
In response to Trump's complaints, Engoron later stated that, in fact, that "nobody asked for" a jury trial. The Messenger and other outlets initially argued that neglecting to file a simple form with a checkbox was the reason for Trump's lack of jury trial:
Earlier this year, New York Attorney Letitia James filed a form with a checkmark next to the field: "Trial without a jury." Trump's legal team didn't file a corresponding form, and the former president may have regretted his lawyer's inaction ever since.
James had requested a bench trial in a form filed publicly in June 2023 that notified the defendants of their readiness for trial. Under N.Y. CPLR 4102, broadly speaking, almost anyone can demand a trial by jury within 15 days of such a notification:
Any party may demand a trial by jury of any issue of fact triable of right by a jury, by serving upon all other parties and filing a note of issue containing a demand for trial by jury. Any party served with a note of issue not containing such a demand may demand a trial by jury by serving upon each party a demand for a trial by jury and filing such demand in the office where the note of issue was filed within fifteen days after service of the note of issue.
As a result of the imagery of a check mark on the court-issued notice and the seemingly clear right for anyone to demand a jury trial in New York, a talking point emerged to the effect that Trump's lawyers' "forgetting" (or otherwise failing) to "check a box on a form" was the sole reason for the lack of a jury.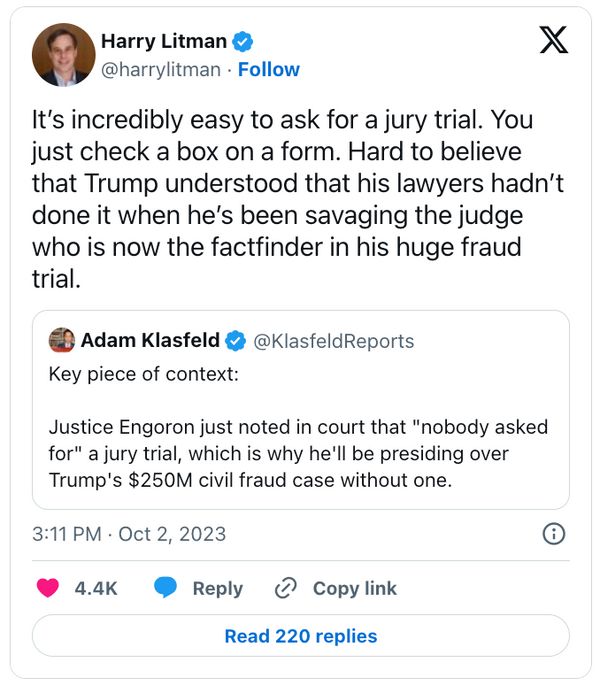 In an interview with Newsmax, Trump lawyer Alina Habba made the argument that her team, in fact, never had a right to a jury trial in the first place:
I have to address this one common misconception in the press, and unfortunately it just keeps getting repeated, which is that we have this great option to have a box checked for a jury.

No, we didn't have that. That's not how this works. They brought it under Section 63(12), which is a very narrow, not appropriately used section of the law, which is for consumer protections, not this. And that is why we're sitting here in front of a judge.
63(12) refers to a section of New York state law that allows the attorney general to bring action against businesses or people that engage in "persistent and repeated business fraud." David Schoen, a lawyer on Trump's impeachment team who was not a part of this fraud case, cited a 2011 case in which "a judge from the same court … said there is no right to a jury trial under New York executive law 63(12)" in an interview with CNN's Poppy Harlow.
This statement, about the case People of New York v. First American Corporation, is not entirely correct. There is no written law that Snopes can identify explicitly mandating bench trials for 63(12) cases, but there is a legal precedent for a jury trial being denied to a case brought under that law stemming from that case. The precedent stems not from 63(12) cases specifically, but from legally defined exemptions to a right for a jury trial in New York.
The specific distinction applies to cases in which the damages awarded are "equitable" in nature. Such remedies are ones in which the "court compels the defendant to perform a certain act or refrain from a certain act." N.Y. CPLR 4101 explicitly states that "equitable defenses and equitable counterclaims … shall be tried by the court" — i.e. without a jury. Several courts in New York have ruled that there is no constitutional right to a jury
In the 2011 case cited by former Trump attorney Schoen, the judge ruled that "the remedies sought by James in this proceeding" were "equitable in nature" and that, as a result, they did not come with a constitutional right to a jury trial in New York State. James' case seeks only equitable remedies, including:
Permanently barring [Donald] Trump, Donald Trump, Jr., Ivanka Trump, and Eric Trump from serving as an officer or director in any New York corporation or similar business entity registered and/or licensed in New York State.
As a result there exists a firm legal argument that this case was never eligible for a jury trial in the first place. As Schoen noted, however, there is no reason why the Trump legal team could not have at least attempted to do so, as First American Corporation did in their failed appeal for a jury trial in 2011.
Such an argument, Schoen said, might have been raised regarding the 250 million dollars in financial restitution sought by James. "I would have filed a jury demand to litigate the issue because here there are very severe monetary punishments at issue, potentially. And I think there's a strong argument to be made for the right to a jury trial," he said on CNN.
While a substantial sum, the $250 million penalty is still a form of equitable relief, as described by James in her initial complaint. That relief, known as disgorgement, requires "a party who profits from illegal or wrongful acts to give up any profits they made as a result of that illegal or wrongful conduct."
It is true, as Judge Engoron stated, that the Trump team did not try to assert a right to a jury trial under N.Y. CPLR 4102. It is also true, however, that being awarded a jury trial would have been much more complicated than simply "checking a box.
Engoron:

"I believe what happened here is that the [AG] clearly checked off non-jury."

But Engoron says it wouldn't have mattered if Trump's team asked, because the relief was equitable.

"It would not have helped to make a motion, nobody forgot to check off a box."

— Adam Klasfeld (@KlasfeldReports) October 11, 2023
On Oct. 11, Following the initial publication of this fact check, Engoron addressed this issue from the bench, saying that "it would not have helped to make a motion" and that "nobody forgot to check off a box."