On Aug. 17, 2023, fringe media outlet The Gateway Pundit published so-called "exclusive photos" from presently incarcerated January 6 defendant Ryan Samsel depicting what he alleges to be his jail cell at the Federal Detention Center in Philadelphia (FDC Philadelphia) — one of the centers he has been held at while awaiting trial charges related to his alleged participation in the Jan. 6 Insurrection. 
That story was shared widely by prominent right-wing accounts on X, the platform formerly known as Twitter, among other places, with claims that this treatment amounted to "horrific," politically motivated prisoner abuse in America: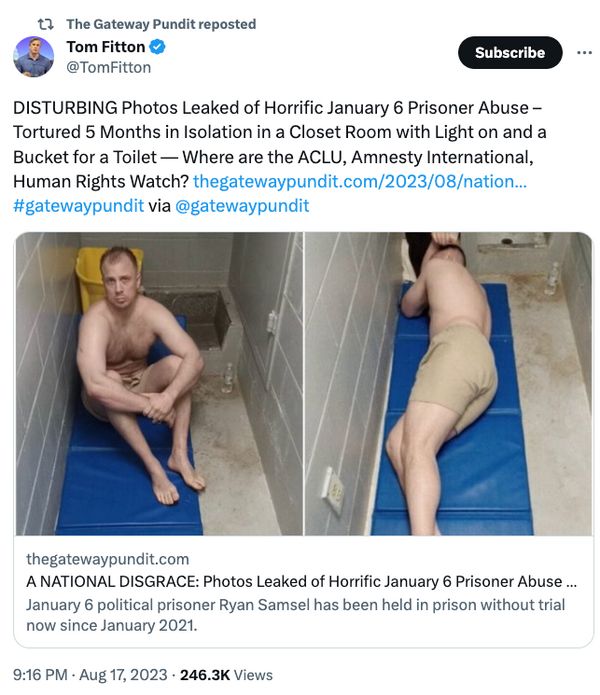 The Gateway Pundit alleged that the pictures depict a Federal Detention Center cell without a toilet that Samsel was isolated in for over five months during his stay at FDC Philadelphia:
January 6 political prisoner Ryan Samsel has been held in prison without trial now since January 2021. [...] Earlier this week The Gateway Pundit received exclusive photos from Ryan Samsel's prison cell at the FDC in Philadelphia. 

The cell was a size of a closet with a light on all of the time. The cell had a thin blue mattress, no sheets or blankets, no clothing, and he was kept here for five months straight.

The photos are just shocking. This is taking place in America today. This is who we are. Ryan told The Gateway Pundit in a conversation this week, "I was kept in … a hard cell. And in that particular cell about five, six months. [...]

Ryan told The Gateway Pundit that there are no books allowed, no letters, no photos. Nothing. The yellow bucket was his toilet.
By email, Snopes asked the Federal Bureau of Prisons (BOP) if the photos shared by The Gateway Pundit actually depicted a cell that Samsel — or any inmate —  would be placed in at any time at FDC Philadelphia. In response, a public affairs official told us that he could confirm the photos "do not depict a cell at FDC Philadelphia." 
Snopes reached out to The Gateway Pundit via its online tip center about the BOP's assertion that the photos shared in the article were not taken where the publication said they were taken, but did not immediately receive a response. 
Samsel has been incarcerated since his arrest on Jan. 30, 2021, for a litany of charges related to his apparent participation in the 2021 insurrection at the U.S. Capitol, where he is alleged to have aided in breaking through a police line, among other offenses. 
He has regularly protested his ongoing pre-trial detention, but has been denied such relief in each case due to the severity of the charges against him — which include assaulting a law enforcement officer — and his lengthy previous criminal record, which was described in a government filing opposing his pretrial release:
Mr. Samsel has nine prior convictions, most of which appear to have involved assaultive conduct and/or "terroristic threats" of some kind. 

It also appears that Mr. Samsel's most recent assault conviction prior to January 6, 2021, came in February 2017, and that he was released from state custody on that conviction in April 2019, less than two years before the events at issue in this case. 

Moreover, the information before the Court indicates that nearly all of Mr. Samsel's arrests and convictions occurred while he was still on supervision for previous convictions. Indeed, Mr. Samsel was on supervision at the time of the conduct alleged in this case on January 6, 2021. [...] 

On top of that, there is an outstanding warrant against Mr. Samsel from the State of New Jersey, also stemming from alleged assaultive conduct, and Mr. Samsel was wanted on that warrant on January 6. 
A status conference related to Samsel's case was, at the time of this reporting, scheduled for Aug. 30, 2023, according to the latest filing in his case's public docket.