On July 25, 2023, U.S. swimmer Katie Ledecky tied Michael Phelps' record for the most individual swimming titles at the 2023 World Aquatics Championships. She also became the first woman to earn 20 World Championships gold medals. 
However, that wasn't the only reason people were searching Ledecky's name online in July 2023. Around the same time, rumors began to spread that Ledecky had "come out" as a transgender woman. 
The claim spread as rumors continued to swirl about Lia Thomas, who has faced anti-trans vitriol while becoming the first transgender woman to claim a national title in swimming. They also spread as World Aquatics, the governing body of swimming, was reported to have an "open category" that would include transgender swimmers in a trial of such a category after effectively banning trans people from competition previously. 
We found posts about the claim on Twitter and Facebook. In addition, we received reader mail asking us about the claim. An article wondering if Ledecky was a trans woman appeared as a top Google News result when we searched "katie ledecky":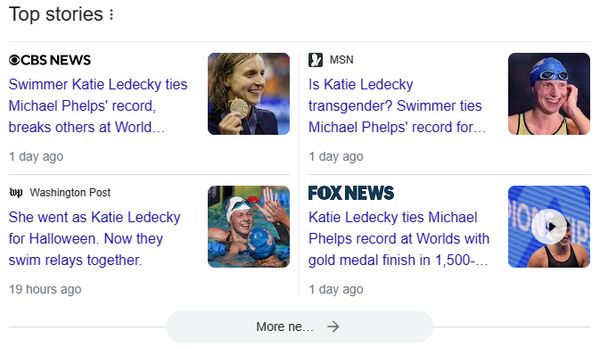 (Google News)
We also found claims about Ledecky being trans had been posted on social media platforms like Twitter since at least 2022. 
There is no evidence that Ledecky has come out as trans. In this story, we'll break down how the rumor spread, previous accusations of Ledecky being trans, as well as how these accusations have been leveled against other athletes and celebrities. We reached out to Ledecky and will update this story if we get a response back.
How Did July 2023 Rumor Spread?
As we stated above, Ledecky has never said she is trans. We could find no public statements she had made about trans swimmers, other trans athletes, or trans people in general, which would have been widely reported by reputable publications. 
Nevertheless, that didn't stop many articles to baselessly state Ledecky had recently "come out" as transgender. When we searched "Katie Ledecky trans" on Google, we found at least two articles with the baseless claim had been written since July 25, 2023, in addition to the featured Google News article.
The article aggregated by MSN and featured by Google News was written by a publication called MEA WorldWide (MEAWW). On the website's About Us page, it described itself as, "One of the world's fastest growing entertainment news publishers." The article's date of publication was July 26, 2023. It was headlined, "Is Katie Ledecky transgender? Swimmer ties Michael Phelps' record for most individual titles at World Championships."
The article claimed:
American competitive swimmer Katie Ledecky recently came out as a trans woman, as per several reports. Her career took off when she made her international swimming debut at the 2012 London Olympics at a young age. 
The article didn't link to "reports" as proof of the claim, and there's no proof the reports exist in the first place. Citing anonymous or unknown sources of information is often indicative of misinformation. We reached out to the organization about the claim and will update this story if we hear back.
Previous Allegations About Ledecky Being Trans
The claim about Ledecky being trans has spread before. In 2022, a screenshot of a Twitter exchange about Ledecky went viral on the platform and spread to other social media platforms like TikTok.
The screenshot showed an exchange between three different Twitter accounts. The first account posted a picture of Ledecky, along with the caption, "Idk that's just kind of how athletes look." The second account replied to the post and said, "Very male build. Maybe this individual should compete with the…males." A different account replied to the second account and said, "That's Katie Ledecky. A cisgender woman."
We CaN AlwAyS TeLl pic.twitter.com/c2nj1Oarur

— Erin Reed (@ErinInTheMorn) March 20, 2022
The picture was indeed of Ledecky. We found the photograph on Getty Images with the caption, "Kathleen Ledecky of United States celebrates her victory in women's 1500m freestyle on day five of the Tokyo 2020 Olympic Games at Tokyo Aquatics Centre on July 28, 2021 in Tokyo, Japan." The picture was taken on that date. 
In addition, we also found at least one article that included the baseless claim about Ledecky being trans from 2022 when we searched her name on Google.
Other Baseless Allegations About Athletes Being Trans
Ledecky isn't the first athlete to have her gender questioned in such a manner. 
In fact, it's happened for decades: NBC News reported that U.S. Olympic runner Helen Stephens' photograph appeared below the caption, "What Do You Think? Is This a Man Or a Woman?" in 1937. Her biographer told the publication that Stephens lost valuable career and scholarship opportunities in the aftermath of the incident.
It happens to other celebrities, as well. In 2023, baseless claims began to spread that actor Daniel Radcliffe's pregnant girlfriend, Erin Darke, was a trans woman. In an article about the incident, Irish public broadcaster RTE said:
Not looking 'feminine' enough has been a rod used to beat successful women throughout history and is still employed today (Michelle Obama, Lady Gaga, Simone Biles, Caster Semenya) which quickly bleeds into homophobic rhetoric, where cis women are attacked for looking 'manly' or 'like lesbians'.
In Summary
There is no evidence that Ledecky is trans. The story picked up steam as articles baselessly spread the claim, even though we could find no public statements from her about trans swimmers, other trans athletes, or trans people in general.