On Jan. 12, 2023, news sites reported that Lisa Marie Presley, the only child of famed American musician Elvis Presley, had died. In the hours following the news, some conspiratorial Twitter users began to speculate that the cause of Presley's death at the age of 54 was a COVID-19 vaccine or booster shot.
However, these rumors were completely baseless, as there was absolutely no credible evidence to support these claims.
'Died Suddenly' Claims
Just 36 minutes after The Associated Press (AP) had published on Twitter the news of Presley's death, conservative commentator Tomi Lahren tweeted, "A lot of heartbreaking sudden deaths from heart issues lately. I wonder what it could possibly be. Perhaps we should investigate this trend…"
Other Twitter users noticed the timing of Lahren's tweet and that she appeared to be referring to the news of Presley's death.
Lahren's tweet played on the "died suddenly" conspiracy theory, which falsely claims COVID-19 vaccines had been causing "sudden deaths." Other Twitter users promoted the same unsupported claim about Presley's death, too.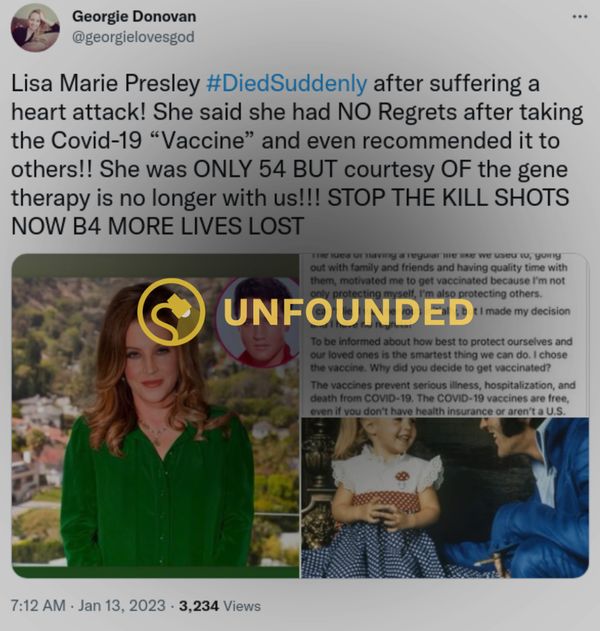 We debunked two rumors about the "died suddenly" claims in the past, as did Reuters, the AP, FactCheck.org, USA Today, PolitiFact, and AFP, just to name a few.
Lisa Marie Presley's Cause of Death
According to AP, the only currently known details about Presley's cause of death was that she had suffered a "full cardiac arrest":
The announcement came just hours after Priscilla Presley had confirmed that Lisa Marie Presley was rushed to the hospital earlier Thursday.

Los Angeles County paramedics were dispatched to a Calabasas home at 10:37 a.m. following a report of a woman in full cardiac arrest, according to Craig Little, a spokesperson for the county's fire department. Property records indicate Presley was a resident at that address.

Paramedics arrived about six minutes later, Little said. A subsequent statement from the Los Angeles County Sheriff's Department said paramedics performed CPR and "determined the patient had signs of life" before taking her to a hospital in nearby West Hills immediately.
It's unclear if or when an autopsy would be completed, as this news broke less than 24 hours before we published this fact check.
At least one Twitter user responded to the conspiracy theory by using a little bit of humor.
The joke tweet from @TimHannan might make some readers wonder about how Elvis died.
Elvis Presley's Cause of Death
Elvis died on Aug. 16, 1977. He was 42, which meant that his daughter outlived him by around 12 years.
Here's how USA Today reported on the findings surrounding his death at Graceland in Memphis, Tennessee:
Presley was found unresponsive at Graceland. His then-fiance Ginger Alden found Presley lying unconscious on the floor of the master suite bathroom, according to PBS. He was rushed to the hospital, where he was pronounced dead at 3:30 p.m.

Preliminary autopsy findings determined Presley's death was the result of a "cardiac arrhythmia" and that drugs were not involved, said PBS. However, this was later proved not to be the complete case. 

In a toxicology report, weeks after his death, Elvis' blood was found to have had extremely high levels of the opiates Dilaudid, Percodan, Demerol and codeine, as well as Quaaludes. 
This story will be updated if we receive any further information.