Claim:
Ukrainian President Volodymr Zelenskyy said that "we are ready to exchange Belgorod for Ukraine's membership in NATO."
Context
Belgorod is a Russian city.
On Aug. 20, 2023, Ukrainian President Volodymyr Zelenskyy was asked to respond to a suggestion, made by head of the NATO Secretary-General's Office Stian Jenssen, that Ukraine could join NATO in exchange for territories seized by the Russian Federation.
As reported by the Ukrainian news service RBC, "the Ukrainian president did not agree with Jenssen's opinion, he, in turn, proposed another option." A thinly-veiled joke, Zelenskyy's proposed option was exchanging the Russian city of Belgorod for NATO membership. "We are ready to exchange Belgorod for our membership in NATO," the President said during a news conference with Danish Prime Minister Matte Frederiksen.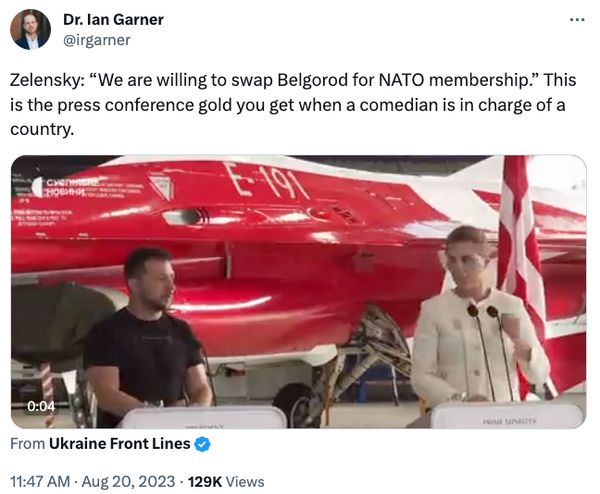 (Twitter )
Belgorod has historic political significance in Ukraine. The city served, for a few months in 1919, as the capital of the short lived Ukrainian People's Republic. It has been solidly in Russian and/or Soviet hands since 1922. 
The city, since the full-scale Russian invasion of Ukraine in February 2022, is also significant from a military and propaganda perspective. As reported in Newsweek:
Pro-Kyiv Russian fighters have launched several cross-border raids, including into Belgorod. Such operations saw Ukraine-aligned units temporarily occupy several settlements and force large-scale evacuations.
Because the statement attributed to Zelenskyy is authentic and documented, the quote is correctly attributed to Volodymr Zelenksyy.