Claim:
A YouTube video posted in October 2023 accurately reported that actor Rachel Zegler, the star of Disney's live-action adaptation of "Snow White," "raged" after being "roasted" by Daily Wire's "Snow White" remake and said, "Mine was better."
On Oct. 22, 2023, the purported celebrity gossip YouTube channel Drama Bay published a video that scurrilously claimed actor Rachel Zegler had "raged" after getting "roasted" by conservative media company Daily Wire's "Snow White" movie.
Daily Wire announced it was making a live-action version of "Snow White," titled "Snow White and the Evil Queen," on Oct. 16. The Hollywood Reporter reported the announcement followed a right-wing backlash against Disney's "Snow White" live-action adaptation, which stars Zegler as Snow White and was scheduled at the time of this writing to be released in theaters on March 22, 2024. (We previously reported about two sets of controversial interview remarks Zegler made about "Snow White" in 2022, and the reactions social media users had to the remarks.)
The YouTube video's title read, "Rachel Zegler RAGES After Getting Roasted By Daily Wire Snow White Remake." The thumbnail quoted Zegler as having supposedly said, "Mine was better," presumably about the Daily Wire version of "Snow White." The video had been viewed over 11,000 times on Drama Bay's YouTube channel at the time of this writing.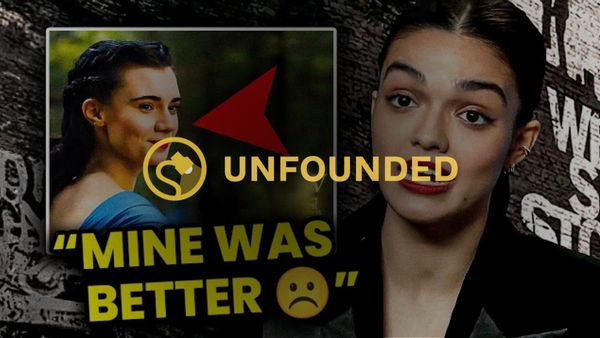 The YouTube video's thumbnail. (@thedramabay/YouTube)
The YouTube video also circulated on TikTok, with one post we found on the platform that featured a clip of the YouTube video with over 381,000 views at the time of this writing. We also found the video posted on Facebook.
The claim was unfounded. There was no evidence presented in the video that Zegler had "raged" about Daily Wire's "Snow White" movie. At the time of this writing, we could find no evidence that Zegler has publicly reacted to Daily Wire's "Snow White" movie at all.
At the bottom of the description under the YouTube video, a disclaimer said:
Content might be gossip, rumors, exaggerated or indirectly besides the truth. Viewer advised to do own research before forming their opinion. Content might be opinionated.
This clip's narration, scripting, sequencing and thumbnail image all looked to have been a product of artificial intelligence (AI), video-creation tools. As we've seen with many of these videos across multiple celebrity gossip YouTube channels, this clip contained a misleading video title with a mix of old and unrelated news, false claims and other emotionally charged moments that likely were meant to elicit angry responses in the comments.
Such videos often end up with hundreds or thousands of comments from users who indicated that they had believed the misleading information presented in the clips.
We've also previously fact-checked other celebrity gossip rumors about Zegler, like an unfounded claim that she had been fired from her role in "Snow White." We found there was no truth to the claim.