Claim:
Emails released in September 2023 through a Freedom of Information Act (FOIA) request show that the Biden Administration "hid deadly COVID vaccine risks from the public."
In late September 2023, several conspiracist media outlets and anti-vaccine social media accounts claimed that newly released internal emails from the Centers for Disease Control and Prevention (CDC) proved that the Biden administration knowingly hid deadly risks of COVID-19 vaccination from the public: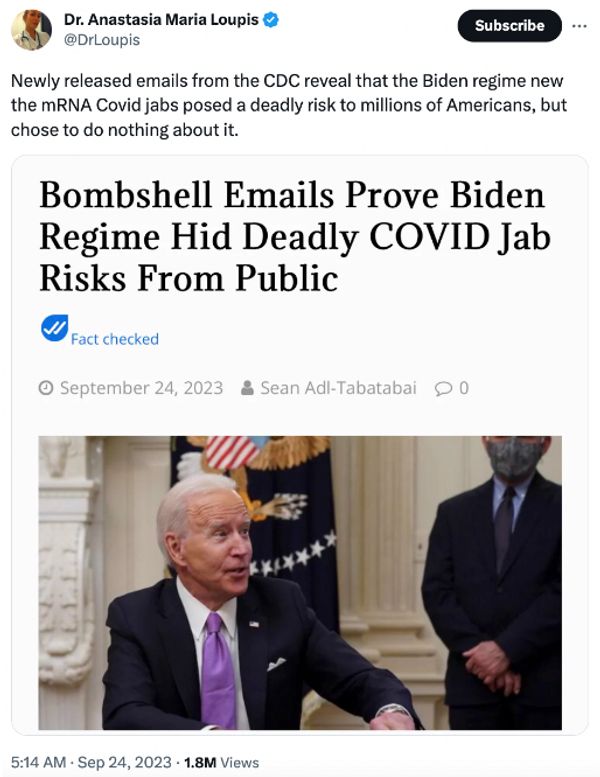 The emails were acquired as part of a larger Freedom of Information Act (FOIA) request for "emails sent by and received by Dr. Rochelle P. Walensky, Sherri A. Berger, and Kevin Griffis [...] on dates beginning February 1, 2021 through May 31, 2021, containing the word myocarditis," which is an inflammation of heart tissue. An initial 472 pages of emails were released in August 2023. The latest viral headlines concern an additional 46 pages released in September 2023. 
The most viral claim made about this September release of emails was an article written by the anti-vaccine persona Vigilant Fox that was later republished on many other outlets including the junk-news website The People's Voice. That story describes an interview between Naomi Wolf and Steve Bannon. Wolf, among other things, is the CEO of DailyClout, the platform that published the FOIAed emails in the first place. 
In the interview, Wolf — who has a Ph.D. in English literature, no medical training, and is referenced as "Dr. Wolf" throughout — describes how "around May 24-25," high ranking officials at the CDC and the White House were "freaking out" about the possibility that COVID-19 vaccines could cause myocarditis and/or thrombotic thrombocytopenia syndrome (TTS). 
"In simpler terms," Vigilant Fox wrote of this medical jargon, "conditions involving heart damage, blood clots, and low platelet counts." Myocarditis is an inflammation of certain heart tissue that can cause "heart damage." TTS causes "blood clots and low platelet counts." Indeed, the emails do mention both of these conditions. 
Wolf claimed in her interview that the CDC and Biden Administration "said nothing about the clotting issue from what I recall." This is false. One would have had to actively avoid the news for months prior to this May 24, 2021, email chain to come to the conclusion that the federal government never said anything about blood clotting and platelet related adverse events from COVID-19 vaccination. 
These adverse events are the ones that caused — a full month prior to these "bombshell" emails — the government to issue a temporary pause on the Johnson & Johnson vaccine, which was announced on April 13, 2021.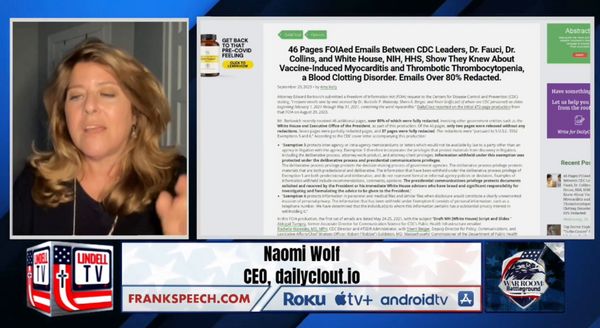 Like Wolf, the headline of the blog post containing the FOIAed emails —  "Emails between CDC leaders, Dr. Fauci, Dr. Collins, and White House, NIH, HHS, show they knew about vaccine-induced myocarditis…" — implied that they revealed knowledge of risk that was not made public. That the CDC knew about either myocarditis or TTS in May 2021 is not breaking news.
The CDC had already acknowledged a DoD study investigating the possibility of myocarditis as a rare adverse event of mRNA Covid-19 vaccines in the military during a White House press conference that occurred in late April, a month before the emails Wolf highlighted. On May 17, 2021, also before the emails revealed by Wolf, the CDC publicly stated that myocarditis was a potential concern.
A week later, on May 24, 2021, the CDC stated that myocarditis was a possible adverse event, acknowledging that "data [...] show that in the 30-day window following dose 2 mRNA COVID-19 vaccination, there was a higher number of observed than expected myocarditis/pericarditis cases in 16- to 24-year-olds. That same day, the White House acknowledged this statement at a news conference and advocated further use of the vaccine.
The reasoning behind the decision to continue to recommend even in the face of this potentially increased risk was simple: Contracting COVID-19 increases your risk of myocarditis far more than vaccination against it. That was what the data showed in May 2021, and that cost-benefit analysis holds up to this day. 
These "bombshell emails" reveal nothing that the general public was not aware of already at the time of their creation, and do not reveal the withholding of any information whatsoever. As a way to make these unremarkable emails seem more nefarious, Wolf misleads her viewers into thinking the heavy redactions in the emails stem from a presidential order of some kind. 
"The reason for all these redactions is that what is redacted was solicited or shared with the president or his most senior advisors" Wolf claimed in her interview. 
Wolf rests that conclusion on the fact that many of the redactions were pursuant to exemption 5 of FOIA law. While Wolf describes this exemption as a rubber stamp issued by the president to block information (by cherry-picking one potential application of its use), the reality is that virtually any internal discussion within the federal government about public-facing statements would be redacted under this common exemption. 
Because these emails reveal nothing that was not already public, the claim that they are evidence of the Biden administration hiding known harms of COVID-19 vaccines from the public is False.