Claim:
In the 19th century, rectal dilators — more likely to be referred to as "butt plugs" nowadays — were touted as a cure for headaches and other health ailments.
Varying in diameter from ½ inch to 1 inch and up to 4 inches long, plastic devices known as "rectal dilators" – also known as butt plugs – were devices said to have been sold in the 19th century and marketed as a cure for ailments like chronic constipation, "torpid liver" and, most surprisingly, headaches.
Photographs of the supposed devices were shared on social media as early as 2016:
Dr. Young's Ideal Rectal Dilators. Advertisement from Detroit Medical Journal, August 1905 pic.twitter.com/DUMkU175UV

— Whores of Yore (@WhoresofYore) June 11, 2016
Using a reverse-image search, Snopes traced the above photographs to posts shared on Flickr and Reddit, both of which credited an exhibit at the St. Joseph Glore Psychiatric Museum in Missouri. In response to an inquiry from our newsroom, museum spokesperson Kami James confirmed that the devices in question were genuine and displayed at the museum.
"[The devices] were used at the former State Lunatic Asylum #2 in the Colonic Irrigation Room. The display is in a replica of that room," wrote Jones, adding that the devices at St. Joseph may not have been intended for curing headaches.
"Many doctors of the time believed that an enema would cure whatever ailment that you had, up to and including mental health issues."
Jones referred Snopes to the catalog entry for the museum's "Box of Rectal Dilators" (archived here). A description that accompanied the items read:
Box containing four of Young's Rectal Dilators and general directions. Box was prescribed on July 22, 1957 by a Dr. Christ to a Mr. A Lee through Schirmer's Pharmacy in Saint Joseph Missouri.
Below is an image of the directions that accompanied the dilators: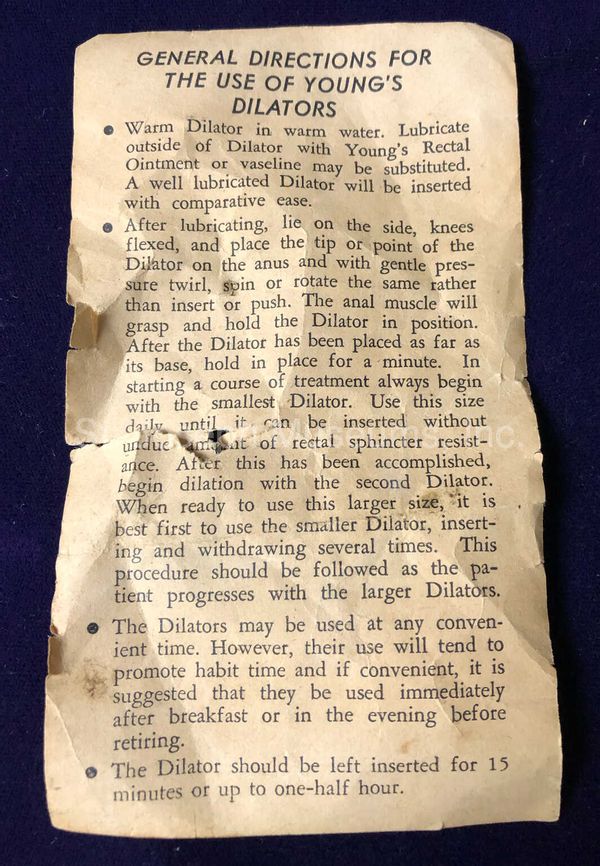 (St. Joseph Glore Psychiatric Museum)
Through a Google search using the keywords "Young's rectal dilators," Snopes found further evidence of the authenticity of the devices in an advertisement published in the monthly journal, The New Way on May 17, 1892. A description claimed that the dilators provided relief for local diseases of the rectum, rectal irritation, as a preparatory treatment following operations on the rectum – and yes, headaches.
Snopes also found an advertisement hosted by Newspapers.com that was published in North Carolina's The Evening Chronicle on Oct. 16, 1913, that featured the "rectal dilators." Text on the advertisement read, in part:
The guaranteed cure for Piles, Constipation, Torpid Liver, etc. Use them thirty days and if you are not pleased with 'the results obtained, bring them back to us and we will refund every cent you have paid. Call or write for booklet describing this wonderful cure. We have them on display at our store [Hospital Supply & Drug Co.]
It turns out that the dilators did not have a long shelf life. The devices were taken off the market following the 1938 enactment of the Federal Food, Drugs and Cosmetics Act, which mandated drug manufacturers to submit evidence of new drugs' safety and effectiveness before marketing and distribution to the general public.
In March 1942, the Food and Drug Administration seized 67 sets across 83 packages and claimed that the dilators and their lubricant were misbranded and considered "dangerous to health when used with the frequency and duration prescribed, recommended, or suggested in the labeling," deeming the labeling "false and misleading representations of their efficacy"