Claim:
A passenger aboard the OceanGate submersible that imploded in June 2023, Shahzada Dawood, was vice chairman of the World Economic Forum.
On June 22, 2023, the U.S. Coast Guard announced that a submersible craft en route to the site of the Titanic had likely been lost in a catastrophic implosion, killing all aboard. The craft, Titan, was operated by the group OceanGate, which takes tourists and experts to the decaying shipwreck. The craft had taken three trips to the site previously. 
Five passengers were aboard: OceanGate founder and submersible pilot Stockton Rush, Titanic expert Paul-Henry Nargeolet, billionaire businessman and Guinness World Record holder for "longest duration at full ocean depth by a crewed vessel" Hamish Harding, and a father-and-son duo, Shahzada and Suleman Dawood, who were members of one of Pakistan's "most prominent families" who joined the expedition as tourists.
Following news that the Titan was lost, conspiracy theories about Shazada Dawood's connection to the World Economic Forum (WEF), an influential international organization fostering private-public partnerships that is the source of myriad conspiracy theories, started circulating online. Specifically, there was a claim that Shazada Dawood was vice chairman of the WEF.
White Hats?
Don't exist apparently.
Hmmmm Okay
Must be a coincidence then that the Father of the Father/ Son duo trapped on the Lost Submarine visiting Titanic.......
Is the Vice Chairman of a little Organisation known as......
The World Economic Forum https://t.co/DS9CEoJtU8

— The White Rabbit Podcast (@AllBiteNoBark88) June 22, 2023
That claim was false. Shazada Dawood was not the vice chairman of the WEF. He was, instead, the vice chairman of Dawood Hercules Corporation, an agriculture, petrochemicals, and telecommunication infrastructure company based in Karachi, Pakistan. 
The confusion stemmed, in part, from the fact that Shazada Dawood's biography was on the WEF website. There, he is listed as vice chairman of Dawood Hercules and its subsidiary Engro Corporation, as of this writing: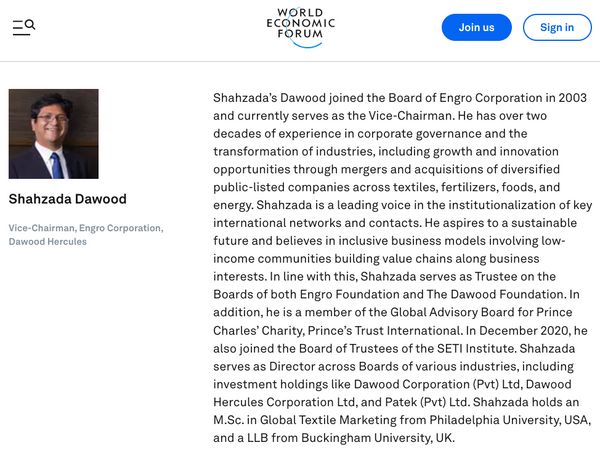 Merely having a biography on the WEF website does not mean a person is a member of the organization. Dawood's biography is not on the webpage listing WEF's leadership. Yan Zopf, a spokesperson for the WEF, told The Associated Press (AP) that Dawood was not the vice chairman or an employee of the organization but "was a member of the World Economic Forum's Family Business Community and attended some of the events in this capacity."
Additionally, as reported by the AP, "Pages on the WEF website like the one featuring Dawood are created for any person who has ever attended a WEF event or has written a blog posted on the site."
Because Dawood was vice chairman of Dawood Hercules and not the WEF, the claim is "False."