Claim:
Disney changed the name of its 2013 movie "Frozen" from "The Snow Queen" to keep people from seeing articles about Walt Disney's cryogenically frozen head when they Googled "Disney Frozen."
For years, claims have spread online that Disney changed the name of their 2013 movie "Frozen" from "The Snow Queen" to keep people from seeing articles about Walt Disney's (supposedly) cryogenically frozen head.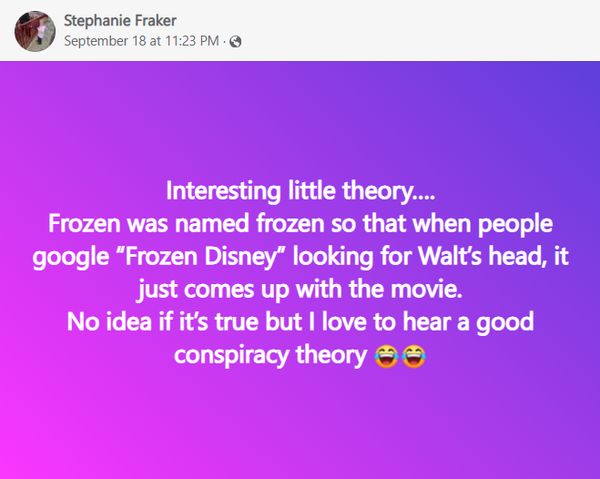 (Stephanie Fraker/Facebook)
We found posts about the claim on social media platforms like Facebook, TikTok, Reddit, X (formerly known as Twitter), and YouTube, where the website ScreenRant posted a video about the claim to their channel in 2019:
We found the claim false. In 2013, the pop culture website Bleeding Cool interviewed the producer of "Frozen," Peter Del Vecho. Using Internet Archive, we found an archived version of the article, in which Del Vecho discussed why the movie ended up with two different names:
The title Frozen came up independently of the title Tangled. It's because, to us, it represents the movie. Frozen plays on the level of ice and snow but also the frozen relationship, the frozen heart that has to be thawed. We don't think of comparisons between Tangled and Frozen, though.

The decision to call the film Frozen was the filmmaker's decision. The studio's decision to then call it the Snow Queen overseas was because that just resonated stronger in some countries than Frozen. Maybe there's a richness to the Snow Queen in the country's heritage and they just wanted to emphasise that.
Later, in 2019, HuffPost wrote that it had asked writer and co-director Jennifer Lee about the claim during an interview the previous year. The publication wrote:
The answer, according to writer/director Jennifer Lee? Hell snow.

…"I have heard that one," Lee said. "These are things where I'm like, we called it 'Frozen' for thematic reasons, and we called it Disney's 'Frozen' because Disney made the film. Disney paid for the film and distributed it."
As to the underlying claim that Walt Disney was "cryogenically frozen" after his death, we fact-checked that long-standing urban legend nearly 30 years ago. We found it false, of course, given that his death certificate showed he was cremated two days after his death.
We've fact-checked other claims involving Disney movies as well, such as whether the company was really making a movie titled "Two Girls, One Cup."