Claim:
A photograph that went viral in July 2023 authentically showed Tom Hanks wearing a T-shirt that read, "Keep America Trumpless."
Context
A March 2020 paparazzi photograph of Hanks was digitally altered to place the fake words on his T-shirt.
On July 29, 2023, a photograph of Tom Hanks went viral on social media, appearing to show him wearing a T-shirt with the phrase, "Keep America Trumpless," and an American flag in the shape of the U.S.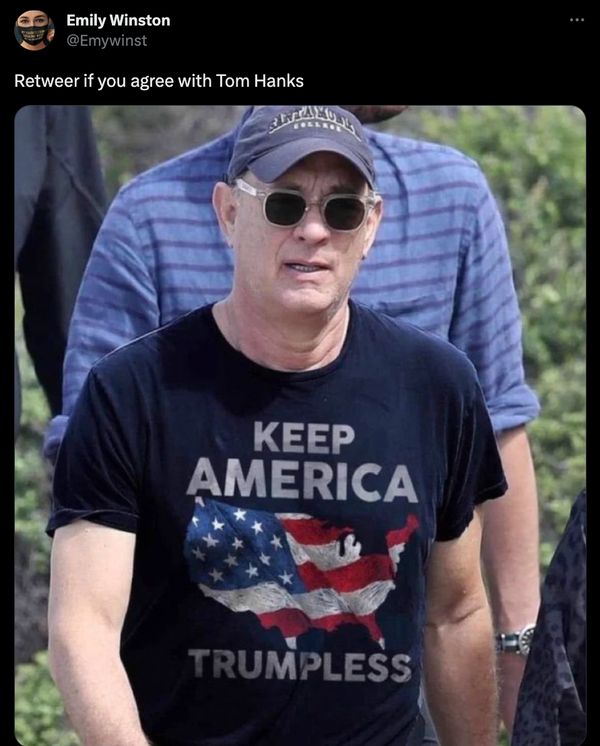 (Screenshot via Twitter)
This was a digitally edited photograph. Hanks did not wear such a T-shirt. The image was an edited version of a paparazzi photograph that showed Hanks walking around Sydney, Australia, in March 2020, just before he caught the COVID-19 virus and had to isolate. We therefore have rated this claim as "Fake."
In the original photograph — which was published by The Sun and The Daily Mail — Hanks wore the same cap, labeled "Santa Monica College," but his T-shirt was plain. It did not have an American flag design, nor the statement, "Keep America Trumpless," on it. The photograph was a zoomed-out, un-cropped version of the digitally manipulated image, providing a broader look at the scene: Hanks was walking with his wife, Rita Wilson, while wearing the shirt and hat.
The Sun credited the celebrity news photography agency Backgrid for the paparazzi photo. The Daily Mail credited KHAPGG, an Australian agency that licenses its images to other media companies, including Backgrid.
The picture that went viral in July 2023 was not the first of its kind. In September 2022, social media users circulated another digitally altered photograph of Hanks supposedly wearing a T-shirt with the same phrase — "Keep America Trumpless" — while walking in New York City the previous month. Reuters debunked that fake image, noting that the original photograph of Hanks in a plain T-shirt was published by The Daily Mail.
Hanks is an outspoken Democrat. He publicly stated he voted for former U.S. President Barack Obama in the 2008 and 2012 presidential elections, and, years later, he appeared in an advertisement for U.S. President Joe Biden, touting his administration's accomplishments. 
Digitally manipulated T-shirts on famous people is a common misinformation technique we encounter at Snopes. Learn how to spot such images here.