Claim:
A screenshot of a post on X shows that Swedish climate activist Greta Thunberg made light of the November 2023 death of a pro-Israel Jewish demonstrator named Paul Kessler.
Context
The purported screenshot of the X post with Thunberg's face and name (see below) came from an account that describes its output as "parody," meaning that it was not a genuine remark from Thunberg.
On Nov. 6, 2023, X user @FaithRubPol posted, "Greta Thunberg slams MAGA's reaction after the Westlake Village/Thousand Oaks tragedy."
Included with the post was what appeared to be a screenshot showing that Swedish climate activist Greta Thunberg had posted, "An old man just got hit in the head with a metal object. It's horrendous but isn't that what gets MAGA off or does he have to be in his underwear?" The post included hashtags for "fuck fascism" and "Trump's fascist army."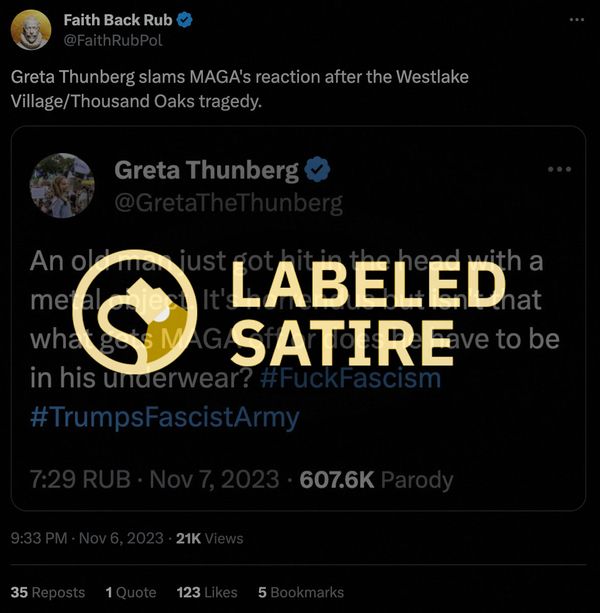 However, Swedish climate activist Greta Thunberg did not make this post, nor had she posted anything at all about the incident described, as of this writing. Thunberg's real account is @GretaThunberg, not @GretaTheThunberg, the handle seen in the image. The latter account has since become unavailable.
The X account @FaithRubPol included the word "parody" in its screenshot of the fake Thunberg post. The user's profile also mentioned, "Most of the images we share are parodies."
Thunberg's Posts About Israel-Gaza War
The background of the "parody" post from @FaithRubPol concerned two main components.
First, there was the fact that Thunberg had made posts in October 2023 that showed her holding signs that read, "Stand with Gaza" and "Justice for Palestine," as Fox News reported.
It goes without saying - or so I thought - that I'm against the horrific attacks by hamas. As I said, "the world needs to speak up and call for an immediate ceasefire, justice and freedom for Palestinians and all civilians affected."#StandWithPalestine

— Greta Thunberg (@GretaThunberg) October 21, 2023
She also posted a separate condemnation of Hamas' attacks (above), ending the post with a "stand with Palestine" hashtag.
The Death of Paul Kessler
The other component of the fake X post was the death of a 69-year-old Jewish man named Paul Kessler.
On Nov. 7, Ventura County Sheriff Jim Fryhoff spoke at a news conference that was broadcast live on Facebook, providing details about his office's investigation of the incident that was believed to have led to Kessler's death.
According to Fryhoff, on Nov. 5, Kessler, a pro-Israel advocate, had taken part in a demonstration in Thousand Oaks, California. The demonstration was about the Israel-Hamas war. Between 75 and 100 people were estimated to have been in attendance.
Fryhoff said that the ongoing investigation had so far found that Kessler sustained a head injury after a fall that was the result of an "altercation" with a pro-Palestinian demonstrator. The 50-year-old male suspect, who was not named by authorities, stayed at the scene and was one of the people who had called 911, according to Fryhoff.
Following Kessler's death in the early morning hours of Nov. 6, a search warrant was obtained for the suspect's home. The suspect was briefly detained and was not arrested, and was soon after released.
During the news conference, Fryhoff said that the events that led to the head injury were not yet "crystal clear," but that the possibility of a hate crime had not yet been ruled out and that the incident was being investigated as a homicide.
For more information about Kessler's death, we refer readers to reporting from The Associated Press.