Claim:
A Tiktok video shows a 'Hamas terrorist' making fun of a kidnapped Jewish girl following Hamas' surprise attack on Israel in October 2023.
Context
The video was published on Sept. 8, 2023, predating the conflict it was being tied to on social media. While the caption does read "lost girl," there's no evidence the man was a Hamas terrorist, or that the girl was either Jewish or kidnapped.
Following a surprise attack by Hamas on Oct. 7, 2023, that saw hundreds of Israeli citizens abducted or murdered, social media platforms were inundated with disturbing videos alleging to show the horror of what was now a full-fledged war between Hamas and Israel. One such video, shared with identical text by multiple, high-follower accounts, claimed to show a "Hamas terrorist with kidnapped Jewish baby girl in Gaza."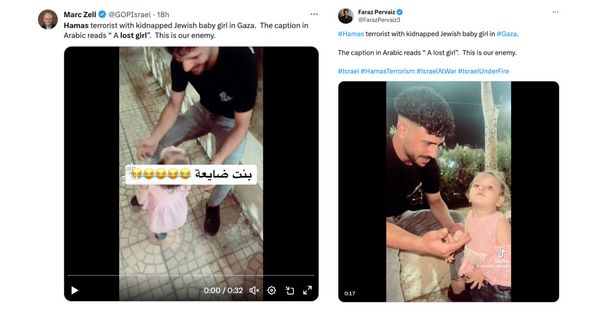 The hashtags associated with the video, and social media users' response to them, indicated that the virality of the video stemmed from an implicit claim that the video portrayed events related to the Israel-Hamas war that began in October 2023. Such an assertion was impossible, as the video was uploaded to TikTok by user "izzeddin_masama" on Sept. 8, 2023 — a full month earlier.
There was nothing in the video to suggest the man in it was in Gaza, was a terrorist, or was affiliated with Hamas. Also, there's nothing in the video to suggest the girl had been kidnapped, was Jewish, or was anything but simply lost. By the time of this reporting, the user who originally uploaded the video, izzeddin_masama, deleted the account.
Because the video predated the events in which it was tied to, Snopes has rated the video "Miscaptioned."