Claim:
An old episode of "The Simpsons" featured a plot line about a run on a bank called the Silicon Valley Bank.
On March 10, 2023, the Silicon Valley Bank in Northern California failed after its stock value collapsed, causing a run on its holdings. Federal regulators assumed control of the company in was reportedly the largest failure of a U.S. bank since 2008. The incident sparked worries about the stability of the banking system overall. 
Naturally, the internet exploded with rumor and speculation about the incident, including, literally within hours of the bank announcement, the claim that a years-old episode of the animated TV series "The Simpsons" contained a scene that "predicted" the Silicon Valley Bank crash. But despite the circulation of a viral video clip that appears to reference Silicon Valley Bank by name, the claim is false, and the video clip was manipulated. 
This is the doctored clip in question:
The clip was made using actual footage from a 1995 episode of "The Simpsons" entitled "The PTA Disbands." The scene in question, which is largely unchanged in the altered clip, was conceived a parody of the bank failure scene in the classic Jimmy Stewart film, "It's a Wonderful Life." In the manipulated version, the name "First Bank of Springfield," which appeared in the original episode, was replaced with "Silicon Valley Bank."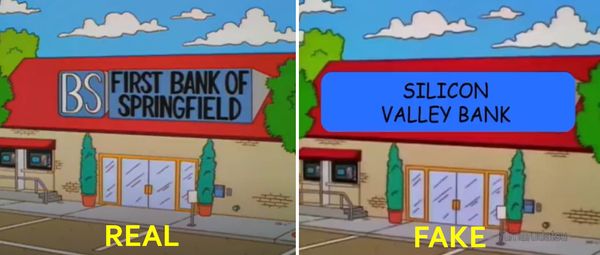 Here is the original, unaltered scene: 
While there have been a few interesting, authentic coincidences between jokes on "The Simpsons" and real-world incidents over the series' decades-long run, most of these "predictions" have rather simple and mundane explanations. The rest are hoaxes.