Claim:
The Russian state media outlet RT published an online article claiming the pilot of the plane carrying Wagner Group leader Yevgeny Prigozhin when it crashed had post-vaccine myocarditis and may have suffered a heart attack.
Amid intense speculation about the cause of the Aug. 23, 2023, plane crash in which Wagner Group leader Yevgeny Prigozhin was believed to have been killed, social media users shared a screenshot of an article they attributed to RT, Russia's state-controlled news network, claiming the plane's pilot had vaccine-caused myocarditis and may have died of a heart attack. 
"Prigozhin pilot had post-vaccine myocarditis, heart attack may be cause of crash," read the headline of the article, only a small portion of which was visible in the screenshot. It contained no further details. 
WE KNEW. WE FUCKING KNEW THE RUSSIANS WE'RE GUNNA HAVE SOMETHING CRAZY. BUT GOD DAMN IT THOSE CRAZY WAR CRIMINALS FUCKING OUTDID THEMSELVES THIS TIME!!!!!! pic.twitter.com/vtN6bDZEdO

— nlawscametovisit@mastodon.social (@thechillchair) August 24, 2023
The screenshot was not real, however. No such article appeared on RT, or showed up in a search of RT's website, or in the archived pages of the website. According to BBC reporter Shayan Sardarizadeh, the screenshot was fabricated and had originally been shared as a joke.
It was a multi-layered joke, at that. The post simultaneously played on the widespread suspicion that Prigozhin's plane was purposely brought down by Putin, on the common knowledge that RT (formerly Russia Today) is a state-controlled media operation and likely to place the blame elsewhere, and on a sub-genre of "died suddenly" COVID-19 conspiracy theories positing that the use of mRNA-based COVID vaccines caused an unacknowledged "epidemic" of myocarditis and heart attack deaths worldwide. 
The Wagner Group, of which Prigozhin was the leader, is a Russian mercenary force that was loyal to Putin's government until Prigozhin led a failed coup attempt against the Kremlin in June 2023. Little had been seen of Prigozhin between the time the revolt fizzled and the day his plane went down. 
The fake screenshot was apparently created by digitally altering a screenshot of an actual RT article which, when first published, contained the same photo and some of the same content: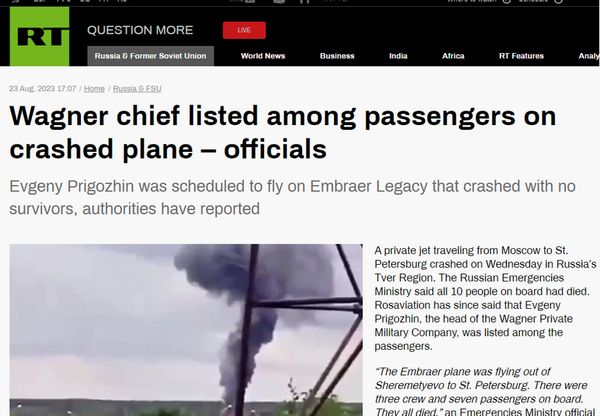 (Screenshot of actual RT article)
We reached out to RT's press office, which confirmed via email that the edited screenshot claiming the pilot had myocarditis was indeed a fake and no such article was published on RT.