Claim:
An online article authentically reports that actor Roseanne Barr was in a new TV show in August 2023 that had more views for its first episode than "The Conners" had during an entire season.
On Oct. 30, 2023, a manager of a Facebook page named America - Love It Or Leave It posted, "The long-awaited first episode of Roseanne Barr's new show got more views than 'The Conners' did in its entire last season. 'It wasn't even close.'"
The Facebook post received more than 8,400 likes, 1,100 comments and hundreds of shares.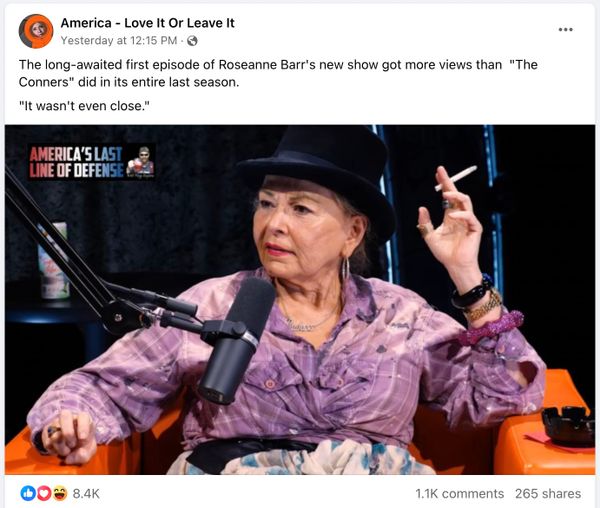 In the pinned comment below the post, a manager of the Facebook page linked to an article on the website for The Dunning-Kruger Times. The story's headline read, "Roseanne's 1st Episode Gets More Views Than 'The Conners' Did All Last Season."
The article began as follows:
Roseanne Barr's critics say she's a "has-been." They believe nobody wants anything to do with her.

Even after her standup routine was nominated for a Tony, they still smeared her name. After the first episode of her new show dropped, however, there's little doubt that she's got the eyes of an entire nation on her.

According to the ratings, episode one had more views on X than "The Conners" got all last season.
However, this item about Barr was not a factual recounting of real-life events. Barr was not nominated for a Tony Award, nor had any episodes been released for a new show.
The Dunning-Kruger Times is a website that's under the umbrella of America's Last Line of Defense, a network of content that's described as containing "parody, satire, and tomfoolery."
Any users who continued to read the article to the end would have found several hints that the story was satirical in nature, such as the mentions of the fictional names "Joe Barron" and "Tara Newhole."
The idea of Barr being a part of a new show was apparently a reference to an August 2023 article from the New York Post. At the time, the Post reported, "Roseanne Barr teams with anti-woke firm for new show on Elon Musk's X." As of late October, we found no further details about the purported untitled show beginning production.
Barr starred in her hit series "Roseanne" from 1988 to 1997 and then reprised her role on a revival of the show in 2018. As Entertainment Weekly reported, Barr was then fired for "racist and incendiary tweets about former White House advisor Valerie Jarrett." A new series was created called "The Conners," a spin-off without Barr that included a storyline in which her character was killed off by an opioid overdose.
For background, here is why we sometimes write about satire/humor.