Claim:
Russian President Vladimir Putin banned 5G cellular technology and destroyed existing 5G towers across Russia over concerns about the technology's safety.
On Aug. 5, 2023, Jim Ferguson, a former candidate for a seat in British Parliament whose social media presence is steeped in false conspiratorial claims, posted to X, the social media outlet formerly known as Twitter, a message about the state of 5G cellular technology in Russia: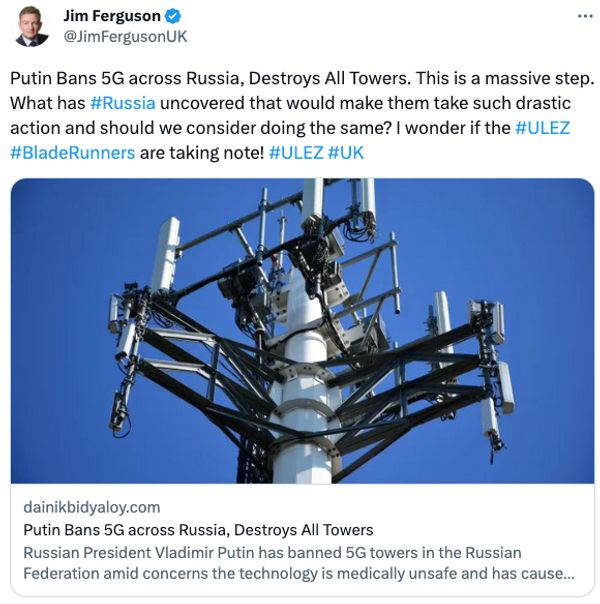 Citing an article from a purported Bangladeshi news website named dainikbidyaloy.com, Ferguson suggested that Putin had "ban[ned] 5G across Russia'' and "destroy[ed] All [5G] Towers," suggesting this "massive step" likely meant Russia knows something negative about the technology that the West does not. 5G is a cellular technology that operates at a higher frequency band than 4G and can carry more data as a result.
Dainikbidyaloy.com is not, in fact, a credible source of information. It is a website that republishes content that originated on Real Raw News, a prolific source of disinformation.
The story Ferguson shared to nearly a million people originated on Real Raw News on Aug. 5, 2023  — a site with a satire disclaimer — and asserted that Putin had ordered the end of 5G in Russia and that he even publicly executed a tech executive over it:
Russian President Vladimir Putin has banned 5G towers in the Russian Federation amid concerns the technology is medically unsafe and has caused the deaths of school children near St. Petersburg.

His mandate wasn't well-received by the Telecom executives. MTS Vice President of 5G Infrastructure Borya Vlasov said the absence of 5G would put Russia at a technological disadvantage, adding that Russia needed 5G to strengthen a once-thriving economy now faltering thanks to Putin's actions in Ukraine. [...]

Putin ordered the security agent beside him to shoot Vlasov squarely between the eyes. Without hesitation, the agent drew his Makarov pistol and put a bullet in Vlasov's forehead in full view of 15 people. 
Real Raw News carries a disclaimer on its "About Us" page that says "Information on this website is for informational and educational and entertainment purposes" and that it "contains humor, parody, and satire. 
In reality, Russia is working to expand 5G access and reduce a technology gap created by the retreat of western telecom technology since the full-scale invasion of Ukraine by Russia in February 2022. In a speech made in June 2023, Russian Prime Minister Mikhail Mishustin reiterated Putin's plans in the area of "technological sovereignty," which explicitly called for the creation of Russian-made 5G base stations: 
The disruption of foreign telecom equipment supplies is posing certain challenges, especially in the mobile segment, where Western solutions were traditionally used.

To speed up the transition to Russian base stations for LTE and 5G, the Government and market participants have adopted a roadmap for the development of modern networks.

It includes several state support programmes, including 3.5 billion roubles in subsidies for the manufacture of the required high-tech devices to be allocated this year.
On Aug. 6, 2023, Andrey Zarenin, the deputy minister of digital development, telecommunications, and mass media of the Russian Federation, also spoke of forward progress on 5G technology at a conference of telecom leaders, according to a news release from that ministry.