Claim:
An image showed a newly discovered "turtle octopus hybrid" in 2023.
An image of a creature in a swampy environment with body parts reminiscent of a turtle, octopus, and, perhaps, a crustacean have repeatedly been shared with various false or satirical backstories. TikTok videos in May 2023 asserted, for example, that the creature came from Santa Clara, Peru.
The image also was used as part of a satirical news story published by the Facebook page The Somerset Insider in mid-April 2023:
A strange discovery was made in Lake Cumberland yesterday, sending shockwaves throughout the community.

A reptilian creature was pulled out of the lake by a local man who wishes to remain anonymous. The creature, which is estimated to weigh over 300 pounds, is believed to be a prehistoric hybrid of a turtle and an octopus. The beast was removed from the creek and taken to the Pulaski County Humane Society for further evaluation.
The image — and also the notion that turtles and octopuses are close enough evolutionarily to hybridize — are not reality-based. The earliest version of the image that Snopes could identify comes from a March 30, 2023, post in a Facebook Community dedicated to sharing images generated by the artificial intelligence platform Midjourney: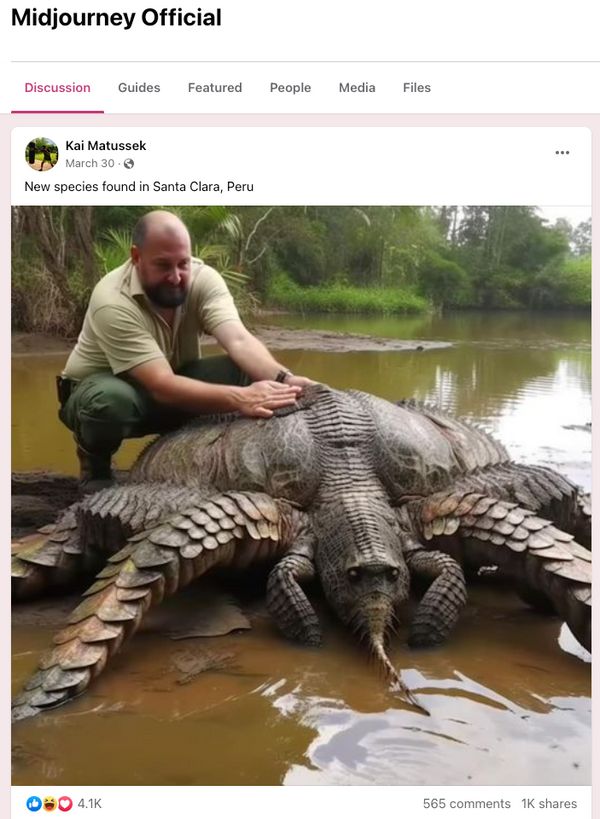 As such, the image does not depict a real creature or even a real human standing next to that creature. As a result, Snopes rates the image as "Fake."