Claim:
A photograph authentically shows a 1930s piano designed to be played by bedridden patients.
A popular picture frequently shared on social media or on listicles shows a photograph of a cumbersome-looking piano capable of being played by someone laying in bed. It is usually accompanied by the explanation that the photograph shows a piano "designed for bedridden patients."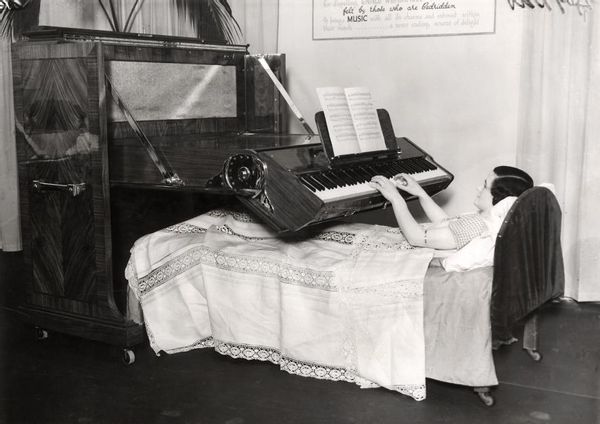 In December 2009, the Flickr account of the Dutch National Archives shared the photograph with this sparse description: "Fold-out piano, specially designed for bedridden patients. Great Britain, 1935."  The photograph is part of the Spaarnestad Collection, a Dutch collection of press and documentary photography. 
Independent confirmation of such a device being displayed in 1935 comes from a United Press wire report describing a piano for the "bedridden" that matches the one in the image frequently shared online. The piano was, according to that news report, to be displayed at the February 1935 British Industry Fair:
A piano for playing in bed will be among the exhibits at the British Industry Fair to be held here in the latter half of February. The inventor of this instrument declares that it is not his intention to encourage the alleged laziness of youth but to attempt to make the lives of the sick and bedridden happier.

With the piano placed at the foot of the bed the keyboard is pulled out like a drawer and bent over on hinges until it is at the right angle for the player's hands. […] It is believed that the instrument will be rather expensive.
Because the photograph is part of a national archive and its description is supported by contemporaneous press accounts, we rate the claim "True."