Claim:
TikTok user @isatandstared sued their parents for being born, won the lawsuit, and now receives $5,000 monthly payments from them.
On March 7, 2022, TikTok user @isatandstared — who goes by "Kass Theaz" — posted a video saying that because they did not ask to be born, they were suing their parents for giving birth to them without asking permission.
In response to a comment in which a user wrote, "HOW do you deserve things you DONT work for???" Theaz responded by saying:
"...So this is the thing, I never asked to be here. And since I didn't ask to be born, I shouldn't be forced to do anything, right? Like I didn't have the choice. I didn't have the choice to not be born, and so I'm actually trying to sue my parents for giving birth to me without asking me permission."
The video went viral, receiving 1.4 million views and 13,900 likes at the time of this writing. When we initially investigated the claim, the original video was not available to the public. However, once contacted by Snopes, Theaz made the original video public again.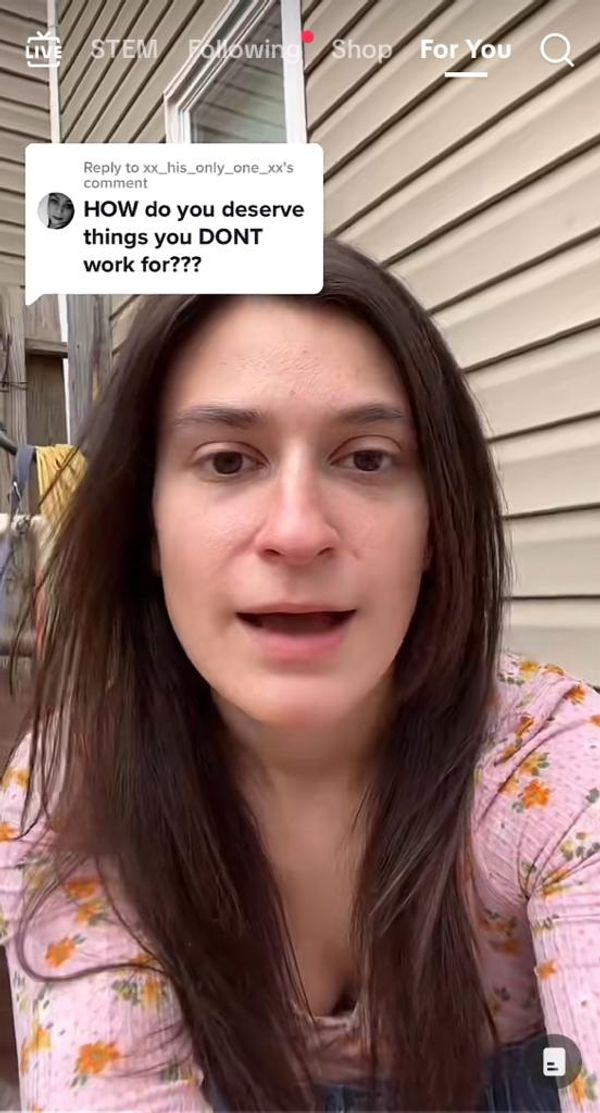 (Image via TikTok account @isatandstared)
On June 6, Theaz posted a follow-up video saying that they had won the lawsuit. According to the clip, the verdict required that their parents pay Theaz $5,000 monthly to cover "basic needs," such as food, shelter, and clothes.
Regarding a comment made on one of Theaz's earlier videos saying: "Hope the court rules in your favor and agrees you should never have been born and gets to work on undoing that🥰" by TikTok user @radiohead999, Theaz responded saying:
"So I made a video a few months ago about how I was trying to sue my parents for having me without my permission and this person commented on that video and said [the above comment], so I just wanted to give you guys an update, I did win. They're not undoing my being born, I am just getting money from my parents, essentially like an allowance every month to pay for my basic needs, so like my shelter, my food, my clothing. And then whatever I decide to work for, if I ever decide to work, which I won't, it's just like extra spending money for me. But essentially, they're responsible for my life for the rest of my life because they didn't ask for my permission before they had me. So yeah, I get $5,000 a month from my parents minimum and then I can work if I wanted more money to spend, but yeah I just wanted to give you guys an update."
Theaz also posted a video explaining that although they believe it is unethical to have children, because their own children were adopted, their ethical concerns about giving birth without a child's permission do not apply. In the same video, they urged expecting parents to "hire a psychic medium" to "ask your child if they actually want to be here."
Users widely stitched these follow-up videos with mixed reactions, and a number of outlets wrote articles about Theaz's claims, including Indy100, Daily Voice, The U.S. Sun, and others. Snopes readers in turn asked us to look into the claim.
The story was not real. There was no lawsuit by Theaz against their parents for giving birth to them. Theaz's TikTok and Instagram accounts include a satire disclaimer, and Theaz themself has said in both interviews with journalists and other posts that their videos are jokes.

(Image via TikTok account @isatandstared)
"I am running a social experiment to see what age demographics are more likely to spread false information on the internet," Theaz wrote to Snopes. "I make satirical videos, put #satire in the caption and have 'satire account' in my bio! It's been interesting to see how little people research."
For background, here is why we sometimes write about satire/humor.