Claim:
Videos that surfaced in November 2023 accurately reported that actor Matthew Perry's ex-girlfriend claims he didn't drown, despite rumors to the contrary, and "reveals truth about last days."
In November 2023, videos surfaced on social media alleging that actor Matthew Perry's ex-girlfriend, Kayti Edwards, had claimed he didn't drown, despite rumors to the contrary, but the videos offered no evidence to corroborate the claim.
The clips surfaced after Perry was found unconscious in a hot tub at his home in Los Angeles on Oct. 28, at the age of 54.
While Edwards did say in a Nov. 11 interview with the Sun, "I don't believe he just drowned in his Jacuzzi, that doesn't sound right," the assertion was unfounded, and the cause of his death had still not been determined, as of this writing.
The unfounded rumor stemmed from a video by the purported celebrity gossip YouTube channel This Happened, with the caption, "Matthew Perry's Ex Claims He DIDN'T DROWN & Reveals Truth About Last Days (Death Certificate Leaks)," and a thumbnail insinuating she said: "HE WAS K*LLED!"
Without naming a source for its information, the video's narrator said:
Matthew Perry's ex-girlfriend, Kaity Edwards, is making some pretty serious allegations about Matthew's mysterious death, and she claims that Matthew didn't drown in his jacuzzi like the police initially claimed.
That YouTube video had been viewed more than 8,000 times, as of this writing, since its upload on Nov. 14. Meanwhile, at least three TikTok videos with the same unfounded claim collectively gained more than 187,000 views. Posts on social media sites such as Twitter also spread the rumor by linking to related videos and articles.
At this time, the Los Angeles Police Department has not determined Perry's cause of death, and Capt. Scot Williams, head of the robbery homicide division responsible for investigating Perry's death, said to the Los Angeles Times that, "at this point foul play is not suspected."
Perry's death certificate notes that his cause of death remains "deferred."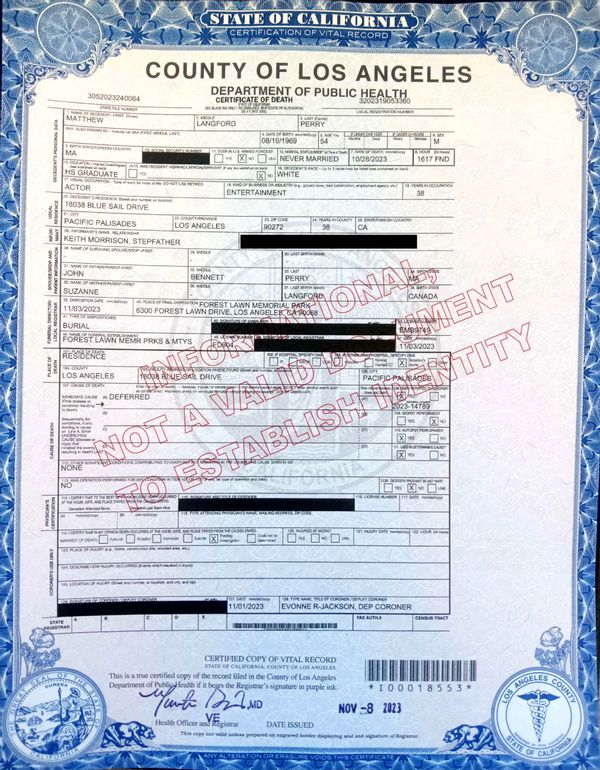 (Image via New York Post.)
There was no evidence to support the assertion that Perry did or did not drown. If, hypothetically speaking, there was even a sliver of truth to the claim — for instance, if his death had been determined — reputable entertainment media outlets would have interviewed parties involved and documented the proven cause of death. That had not happened.
In short, the claim by Edwards appeared to be unfounded, and the claims made by the YouTube channel appeared to be dramatized for the purpose of gaining clicks, or views, online. A disclaimer at the bottom of the YouTube video read:
The content on this channel may contain gossip-based information, rumors, or exaggerated portrayals of reality. Please exercise your own discretion while watching and remember that not all information presented may be factual or verified.
Despite the fact that the video's underlying claim was unfounded, the clip about Perry could seem believable because of its mentioning of the opinions Edwards shared in a separate interview. With that mixture of true and misleading information, as well as emotionally charged language, such videos with baseless celebrity rumors often generate hundreds, or thousands, of comments from YouTube users. Some of those messages indicate that people interpret the videos to be real news.