Claim:
A post on X says that Fox News reported former U.S. President Donald Trump's Mar-a-Lago Club had received a foreclosure notice from Deutsche Bank.
On Nov. 15, 2023, a user on X with the handle @PatMaguire10 published a post (archived) that said Fox News had reported former U.S. President Donald Trump's Mar-a-Lago Club in Palm Beach, Florida had received a foreclosure notice from Deutsche Bank. We received reader mail that asked if this was true.
The post read, "BREAKING FOX NEWS: Deutsche Bank has filed a notice to foreclose on Mar A Lago. The Trump property is part of a larger estate lien that is 190m$ delinquent. Court documents show a 3.4b$ loan that's in default. Trump hasn't respond to repeated attempts for comment. Developing story."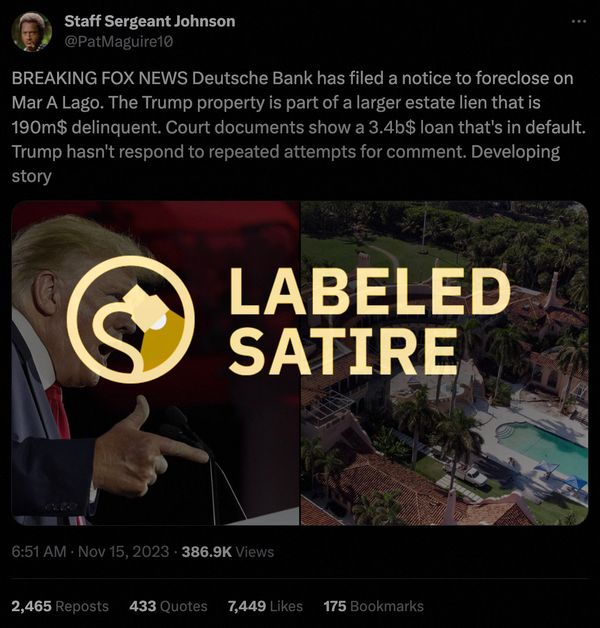 However, a quick check of @PatMaguire10's X bio showed that the account posts "parody" content. In other words, Fox News didn't report on any such foreclosure notice, nor was there any public record of a foreclosure of Mar-a-Lago taking place or scheduled to happen in the future.
For a little more background on the subject that was referenced, on the same day that the post was created, Trump's legal team reportedly asked for a mistrial to be declared in the civil fraud trial brought against him in New York.
Weeks earlier, the same trial featured testimony from retired Deutsche Bank executive Nicholas Haigh. Haigh provided information to the court about the bank's decision to loan Trump roughly $125 million for the purchase of the Trump National Doral property in Miami in 2011, according to ABC News.
As for Mar-a-Lago, Miami Herald reported in August 2022 that Trump had received a loan from Chase Manhattan Bank – not Deutsche Bank – for his 1985 purchase of the property:
Mar-a-Lago itself cost Trump $8 million, which he financed with an $8.5 million loan from Chase Manhattan Bank. The other parcel - oceanfront land next to the manor - cost $2 million. Trump was able to use $500,000 from the estate loan and a $1.5 million mortgage from the seller, Jack C. Massey, to cover the bill.
For further reading, we previously published a report titled, "Media Literacy: How Can You Tell if a Post Is Satire/Parody?"