Claim:
U.S. District Judge Aileen Cannon, who was assigned to oversee the federal criminal case against former U.S. President Donald Trump regarding the alleged mishandling of classified documents, was photographed at a September 2022 rally hosted by Trump.
In June 2023, after a judge was assigned to former U.S. President Donald Trump's federal criminal case in connection with his alleged mishandling of top secret documents after leaving office, allegations that she might show favoritism toward Trump swirled online. 
Trump had appointed Judge Aileen M. Cannon to the U.S. District Court bench in 2020, during the final months of his presidency. In 2022, Cannon intervened in the ongoing investigation into Trump's handling of classified documents by issuing a ruling that barred the government from using any of the pertinent documents as part of a criminal investigation, and by granting Trump's request to appoint a special master to review them. Her ruling was rebuked by a federal appeals court in December 2022, allowing the Justice Department to use the documents in their inquiry.  
After she was assigned to Trump's case in June 2023, a photograph taken at a September 2022 Trump rally went viral along with allegations that Cannon was one of two women in the photograph proudly proclaiming their support for the ex-president: 
Explain to me how the woman on the right (Cannon) will not protect trump in court!
Here she is at a trump rally. pic.twitter.com/m33whJ2cr6

— hippiemama 🏳️‍🌈 🟧 (@siswldrs) June 10, 2023
Well, as of now they are still above the law. We shall see what happens. Trump already got his way with that judge Cannon. Here's a picture of her at a trump rally last year pic.twitter.com/HvX5YBkjh8

— Rick Martinsen (@flickguy123) June 10, 2023
However, the claim that Cannon is one of the two subjects of the photo is false. The mistaken identification likely stemmed from a Slate article that appeared almost a year earlier, in September 2022, that featured the identical photo with a caption that read, "Trump rallygoers, or members of the judiciary? It's hard to say."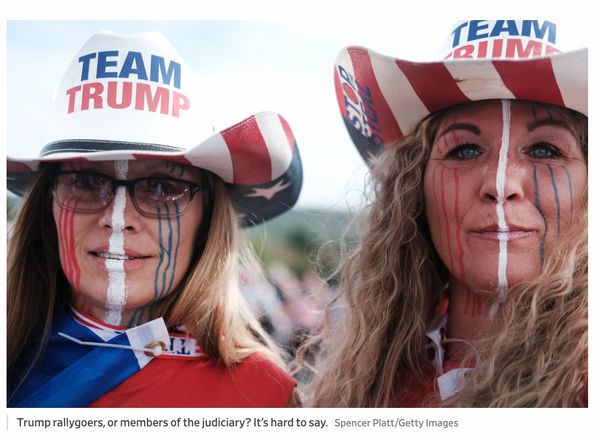 (Screenshot via Slate)
When first published, the article itself, which argued that flaws in the system had allowed Cannon intervene in the case in 2022, did not clarify who the women in the photo actually were. However, on June 12, 2023, Slate revised the caption and added an update notice to the article that read (emphasis added), "This caption originally read: 'Trump rallygoers, or members of the judiciary? It's hard to say.' It has been updated to reflect the fact that these are not members of the judiciary.'"
The photograph was taken by Getty Images photographer Spencer Platt at a rally hosted by Trump in Pennsylvania in September 2022. Getty's caption did not identify the women in the photo, stating instead: "People gather to hear former president Donald Trump speak as he endorses local candidates at the Mohegan Sun Arena on September 03, 2022 in Wilkes-Barre, Pennsylvania. Trump still denies that he lost the election against President Joe Biden and has encouraged his supporters to doubt the election process. Trump has backed Senate candidate Mehmet Oz and gubernatorial hopeful Doug Mastriano." 
We reached out to Getty Images in an attempt to determine the identity of the women in the photograph. A spokesperson told us, "... we can confirm that the image was taken on September 3, 2022 at a campaign rally hosted by former president Donald Trump in Pennsylvania. The photographer did not get the names of the women in the frame. All available details are included in the caption on our website." 
We also reached out to Platt and the Florida District Court office and will update this post if we get more information.
Platt spoke to Newsweek about the photograph and said that he could not recall taking the photo, as it was a while back. "That said, I highly doubt it was her as I always ask permission and can't believe a judge would agree. I think this is people getting all worked up," he said. 
Given that we have no actual evidence connecting this photograph to Cannon, that Getty Images could not provide names for the women in the picture, and the original Slate caption was amended to stipulate that the women were not members of the judiciary, we rate this claim "Miscaptioned."