Claim:
Israeli authorities detained Gazan workers in Israel amid the October 2023 war with Hamas, and attached numbered plastic ID tags to their ankles or wrists during detention.
On Nov. 3, 2023, thousands of detained Gazan laborers were deported from Israel into Gaza after spending weeks in Israeli prisons. A video went viral showing numbered plastic ID tags on released workers' ankles, with many online decrying Israeli authorities for treating the Gazans like "animals" by doing so.
The workers were detained soon after the Israel-Hamas conflict began. On Oct. 7, 2023, Palestinian militant group Hamas launched a surprise attack on Israel from Gaza, followed by Israel declaring war and attacking and blockading Gaza, actions that resulted in the deaths of 1,400 Israelis and almost 10,000 Palestinians, as of this writing. Hamas' attacks came after months of surges in violence against Palestinians by the Israeli military.
A number of independent news organizations spoke to multiple Gazan workers and laborers who made similar claims of being tagged, as well as witnessed the laborers leaving Israel with numbered ID tags on their ankles and wrists. As such, we rate this claim as "True."
The above video was taken from an NPR report that showed Gazan workers leaving Israel from the Kerem Shalom crossing — also known as Karem Abu Salem — and workers at the Rafah border crossing between Gaza and Egypt. NPR producers witnessed throngs of these laborers returning from detentions at these border crossings and saw the blue numbered tags on their ankles and wrists.
NPR's producer in Gaza, Anas Baba, spoke to one worker who said the Israeli police "treated us like livestock" and showed a tag with an identification number on his ankle. The same could be seen on many of the detained workers released that day.⁠
Photographs taken by Baba for NPR, and by Said Khatib for the AFP, also show workers with the tags on their ankles.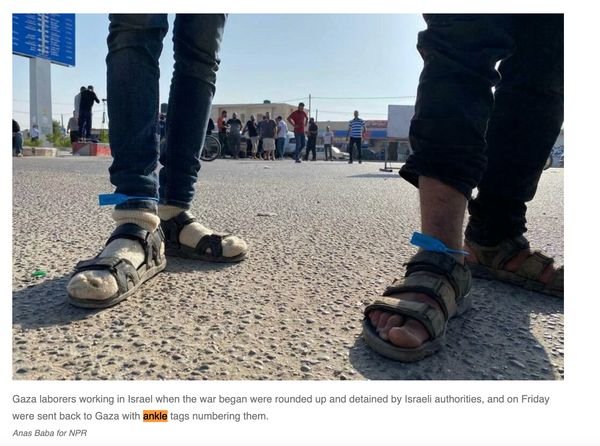 (Screenshot via NPR)
Al Jazeera and The Washington Post detailed similar claims from workers as well as their own reporters witnessing the numbered tags on the wrists and ankles of detained workers.
The Washington Post described the scenes at the border crossing thus: "In tattered clothes, the men passing through the Kerem Shalom crossing on Friday were among 10,000 Gazan workers ordered deported after spending weeks in Israeli prisons. Some still wore plastic tags around their wrists with numbers from their detention."
Al Jazeera spoke to Zaki Salameh, a builder from Gaza who was working in an Israeli town when the war broke out on Oct. 7, 2023. He described being arrested and tagged by Israeli authorities and taken to a prison in which he was tortured and interrogated for several days, he said.
Before the war, Israel had given an estimated 18,500 Palestinians permits to work in Israel — a coveted ticket out of Gaza's crushing unemployment, which was made worse by Israel's 17-year blockade that devastated the economy. Gazan workers often took low-wage jobs on Israeli farms, construction sites, and in restaurants and malls. Within days of Hamas' attack on Israel, the government canceled all work permits and erased the workers' information on the phone app that Palestinians from Gaza used to prove their legal standing, according to the The Washington Post.
When Israel decided to release some of the workers, Israeli Prime Minister Benjamin Netanyahu said, "Israel is cutting off all contact with Gaza. There will be no more Palestinian workers from Gaza and the workers who were in Israel when the war broke out will be returned to Gaza."
Thousands of Gazan workers also sought refuge in Palestinian-run parts of the Israeli-occupied West Bank, according to the Post, and are presently unable to return to their families in Gaza.