Claim:
Instagram users can see who blocked them by hitting "share" and "other."
Context
There is no "other" button, and this rumor appeared to be nothing more than a hoax.
In early 2023, social media posts claimed to reveal a method for Instagram users to see who's blocked them. On Feb. 19, 2023, @jj_cadwell claimed via an Instagram Reel and TikTok video:
Are you guys petty like me, and you wanna find out who's blocked you and see what that list looks like? It's actually pretty simple. All you do is go 'share,' hit the 'other' button and then click on the 'blocked.' And there's your list."
I got you guys ????
Other videos made the same claim. "You can now see who blocked you on instagram," one alleged. "SHARE [arrow emoji] OTHER [arrow emoji] blocked."
However, this was a hoax. The alleged "other" button after selecting "share" on an Instagram post doesn't exist. A spokesperson for Meta, which owns Instagram, said, "I can confirm that this is false. There is no 'other' button and we do not disclose a list of people who have blocked your account."
We reached out to @jj_cadwell for comment. We will update this report when, or if, we receive a response.
When we tested the purported tip on both mobile and desktop versions of Instagram, we did not find this alleged "other" button. By selecting the "share" arrow button underneath a post, we received options to send the post to another user. No other options were given.
On desktop, when we clicked the "share to" button (which you can find by clicking the three dots at the top of a post) we found options for sharing the post to other platforms, such as Twitter or Facebook. Among these options was "see all," which gave additional ways to share the post via desktop.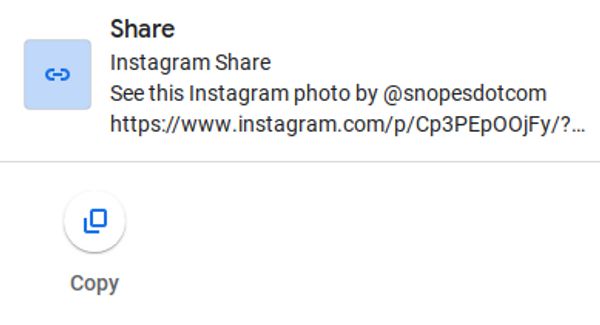 (Instagram)
On mobile, the "see all" option also displayed ways to share the post on different platforms, such as Bluetooth and Google Drive, or via methods like copying and pasting the post's link or using a QR code.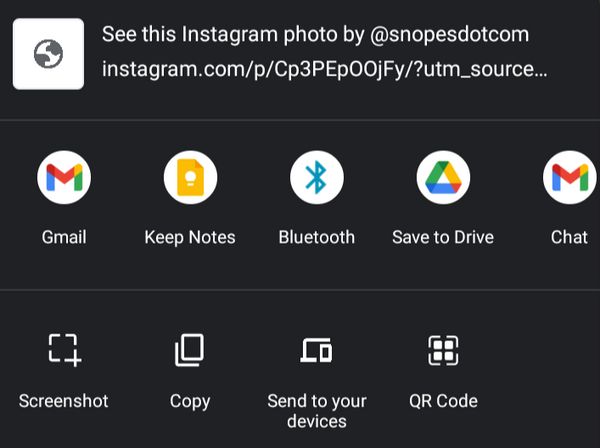 (Instagram)
Considering the facts that this alleged "other" button that would show Instagram users who's blocked them doesn't actually exist, and this purported social media tip appeared to be nothing more than a hoax, we rate this claim as "False."